Charles Neil lowboy build-along, #7
Hey, ladies and gents!
Last week, on the lowboy project, we had shaped one leg and had gone through the initial shaping, step by step.
http://i927.photobucket.com/albums/ad116/woodwokerplus/Charles%205/compleatedfett.jpg
After working and re-working the legs to be nearly finished, I find in this week's webisode that I should have left the area, from the knees up, roughed in (as Charles said in an earlier webisode), due to the upcoming step of installing and shaping the knee blocks or ears, that are attached to the leg. Oh well, I'll still do my best to make it come out okay. I'm sure it will all come out in the wash.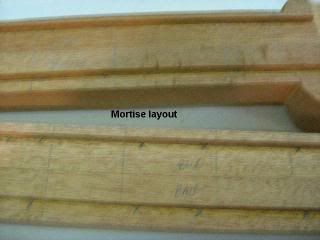 A point I should make, is that the sides and back of the lowboy will have the center mortise and tenons glued in place and the top and bottom mortise and tenons will have tenons with elongated holes and pegs to allow for wood movement.
Notice the color difference between the three pieces of mahogany, as noted. The center one is African mahogany, which is less expensive and more difficult to finish, but Charles sent it for me to use on the back of the lowboy and also, for me to see for myself the difference between the genuine mahogany and the African mahogany. Not only did Charles supply the mahogany, but he milled and sanded it before shipping it to me. What a guy!
I'm hoping that I can get the next installment by the middle of next week. Then I'll be milling the back and sides, and with any luck, I'll even get to the front scroll board.
Remember, the techniques I've gathered are from Charles Neil's subscription online webisode, "Mastering Woodworking".
Charles will be starting a new project soon, and it looks like it's going to be a beautiful dovetailed blanket chest with two lower drawers and cabriole feet. So if you've thought about signing up for his "Mastering Woodworking" webisodes, now would be a great time.
http://mw.charlesneilwoodworking.com/
-- https://www.artisticwoodstudio.com/videos wood crafting & woodworking classes
---