click the marker to see the address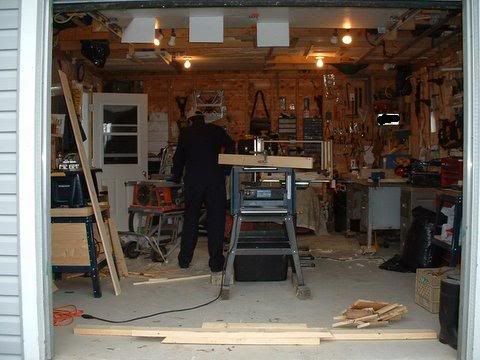 I have a 16×18 workshop that I built with a 12\12 pitch roof. My wife has a potting shed upstairs with access from the outside.
I am posing for a picture in the awful mess . . . Im working on three projects. You can see: planer (center), router table (left) and table saw. My drill press and scroll saw are over to the right. I have a mess of tools hanging on the back wall to the right.
My workbench is an old grey metal office desk that my father got from an army surplus auction when I was five. I planked it over with 2×10 spruce and put it on casters. A matching 2 drawer filing cabinet (next to the desk) is the home from smaller power tools and my scroll saw.
I store my lumber between the floor joists above my head.
AND . . . above the door you can see my 12" colour tv . . . yep tv . . . with remote.
---