Having finally fitted the cross-pin and riveted the end over, I could do a trial assembly of the whole plane. After polishing the iron and honing its cutting edge, I was able to set up the plane ready to see whether it was going to work!
With trepidation and excitement, I put a piece of oak in the bench vice, ran the plane over it and was thrilled when the first shaving emerged from the mouth of the plane. It was a little bit on the coarse side but a slight adjustment resulted in oak shavings just 5 thousandths of an inch thick. The resulting surface is very smooth, although the width of the cut is narrower than what I am used to.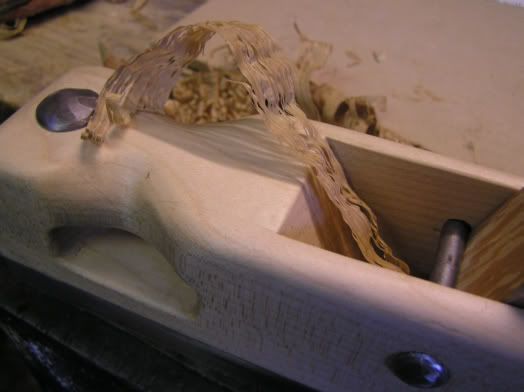 The plane felt really different to my modern ones due to its unusual hand grips. Three fingers fit into the rear grip and just two into the front one which is a little small for my big knuckles. The thick steel sole plate gives the plane a sturdy feel and the body contours are comfortable in the hand. Overall, I believe that the project has been really worth-while and the plane could certainly one that I could use in my workshop, as well as being a showpiece.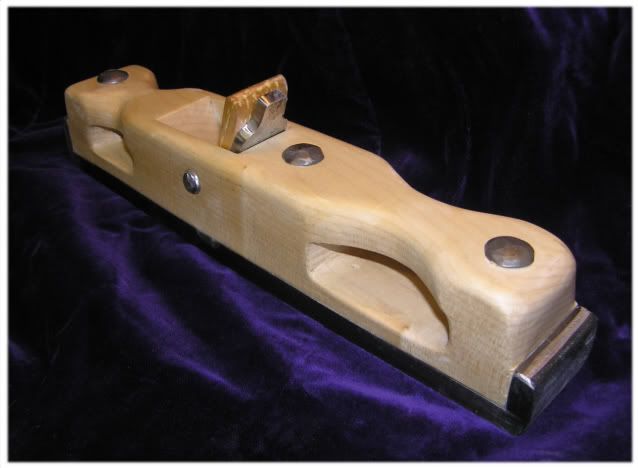 -- Res severa verum gaudium - True pleasure is a serious business. http://www.folksy.com/shops/TreeGems
---