"A MASSIVE clean-up operation is underway after 2,000 tons of timber washed up on Worthing's beaches.
Giant mountains of wood have hit almost every beach along the town's coastline, drawing visitors from across Sussex. Here is a video clip showing the scale of the problem, and here's a slide show.
The timber comes from the cargo ship Ice Prince, which was on its way to Egypt when it sank 25 nautical miles south of Portland on Monday.
Her crew of 20 was rescued, but around half of the timber they were transporting was lost to the sea.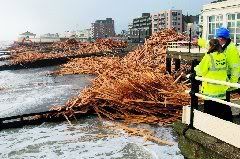 The Maritime and Coastguard Agency (MCA) is warning the public not to attempt to salvage any of the timber, although people have been seen loading wood into trucks (tut!) from beaches in Goring and East Worthing.
Alison Kentuck, receiver of wreck, said: "The owners of the ship have appointed their own salvage company to come and retrieve the timber. I understand they will then try to sell it on.
"We are trying to get out the message that people need to stay safe and not attempt to take any of the timber from the beach. "It is illegal and the police are taking a hard line on this. Anyone found to be doing so could be fined quite heavily. "There have been people trying to do so, but when you explain their legal rights, most of them understand."
As Worthing residents learned what was going on, thousands flocked to the beach to take a look at what many believed was a once-in-a-lifetime sight.
Dozens could be seen taking photographs and many just stood watching in amazement at the sheer scale of what had happened. Helen Moules, 50, of Thalassa Road, said: "It is just absolutely fascinating and the smell the wood is giving off is gorgeous – it certainly makes a change from seaweed.
Her neighbour, Margaret Finley, 64, said: "We've seen people carrying wood off home. It just goes to show how strong the tide and winds are to bring all this wood here."
"I did just encounter one parking attendant though who didn't realise what was happening. He thought this was to stop the seawater from causing floods. It was so funny. I couldn't believe he didn't know."
It is thought the operation to rescue all the planks, many of which are six metres long, could take weeks.
Don't miss the Worthing Herald's eight page souvenir special called "Planks for the memory"!!"
Oh, and it's a 600 mile round trip for me. I did glance over the cliff top here on the East Yorkshire coast today just in case!
-- Res severa verum gaudium - True pleasure is a serious business. http://www.folksy.com/shops/TreeGems
---