I decided to make a sign for my grampa's shop since we are going down to there house this weekend for 4th of July. I had already made one for my shop but I decided to make another because the first one was really easy and fun. Here is how it goes.
You start out with your stock, whether it is edge joined or solid doesn't really matter, and you want it to be of sufficient size, large enough to put the words that you want on it

After that it's time to route a Roman Ogee on the edges. Remember to do the end grain first so that you reduce chip out.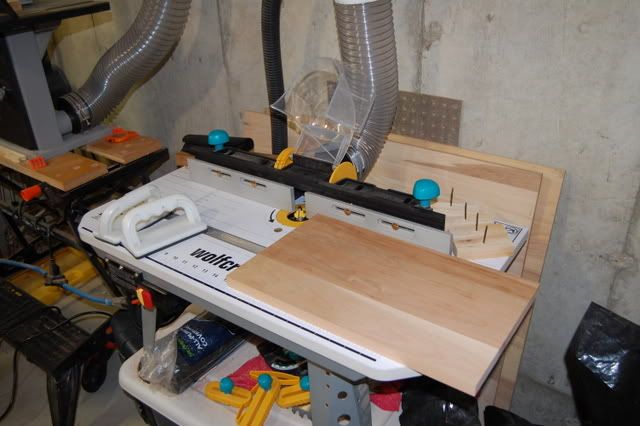 Here's what it will look like
Now you have to lay out the words that you want on your sign. I began with pencil and then used permanent marker to make it easier to see.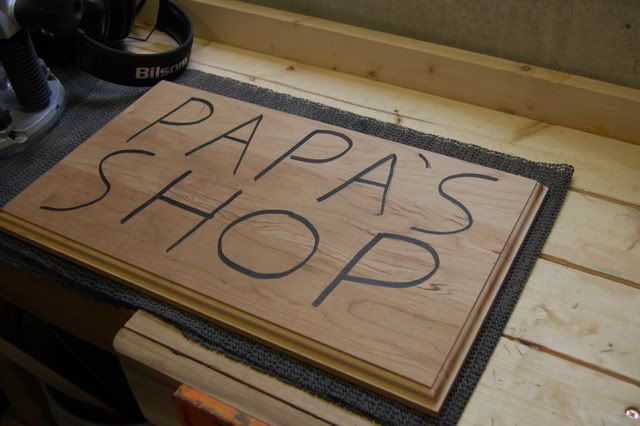 After that I used a small core box bit in the plunge router to carve out the letters. You have to be very careful and take this part slow or you will screw up the letters. Make sure you use dust collection in the router or you will have a heck of a time seeing the lines.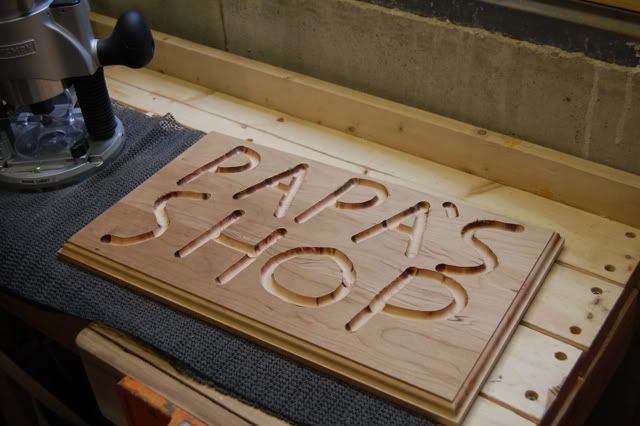 Now remove any fuzzy dusty kind of stuff form the routing and tape up every thing but the letters. I did it by overlapping layers and then using an exacto knife to cut around each letter.

After this I got ready to spray the paint into the letters. I used Flat Black. I just set up the board on top of a bucket with plastic on the floor.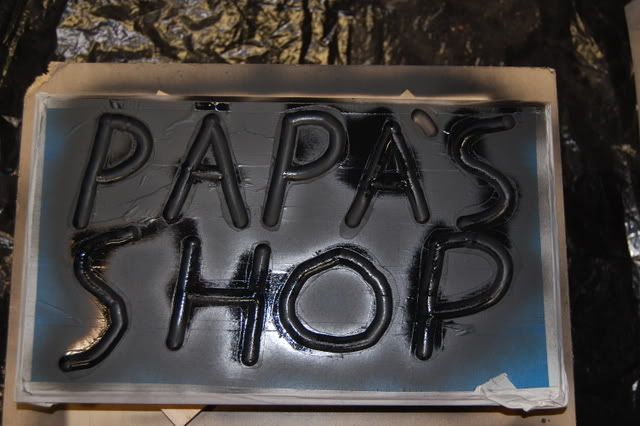 Now you remove all the tape from the sign. Make sure you do this after the paint has set for a while, one good thing about flat black paint is that it dryies completely in like ten minuets.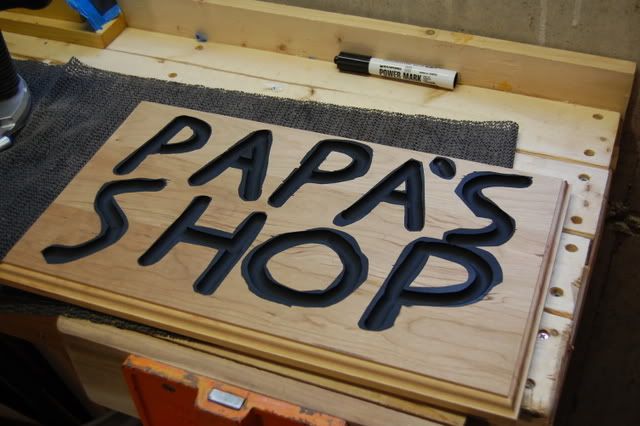 Now I take a sanding block and remove the majority of the over spray off the top of the sign. Then I use a ROS to take care of the rest.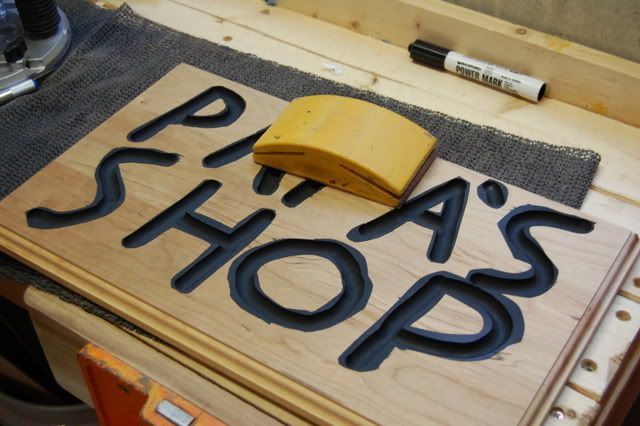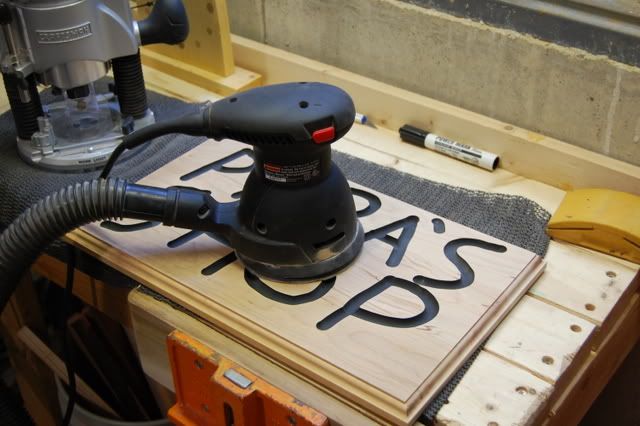 Here is what you get after you remove all the paint off of the top.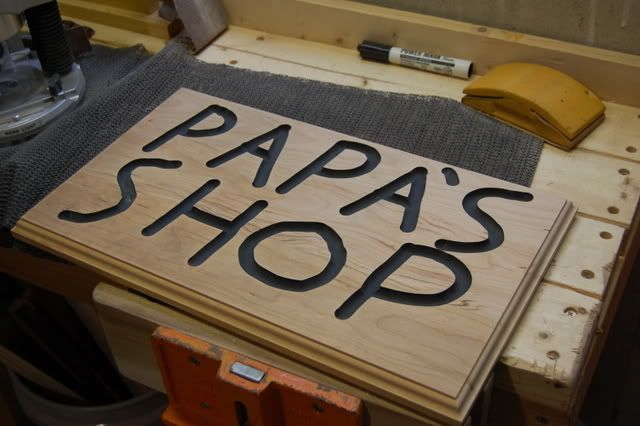 Now I get ready to spray the finish on. For this project I'm going to use one of my favorites, a spar urethane that has UV protectant and looks beautiful, made by MINWAX. It sprays on really easily, I start wit the back, then flip it over onto nail boards and then spray the front and edges.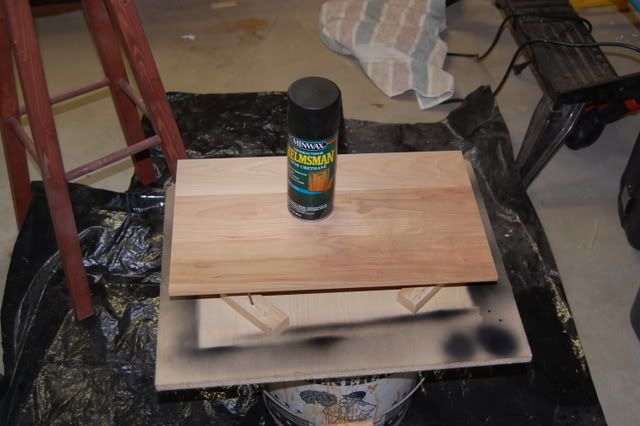 And here is the final product. Looks great!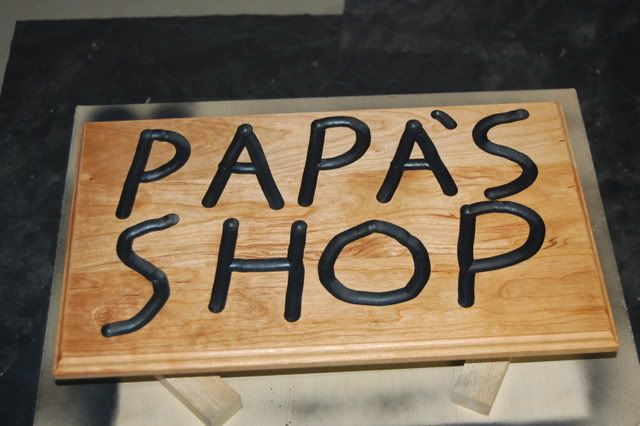 -- Tyler, Illinois
---