When its all said and done, we all grew up, we all learned, we all played with toys, and we all made really bad projects. :) Here are some of my first, and I mean first projects. The one that actually looks nice, no I didn't cut the wood, I simply nailed it together, and the peices were aready cut for me and so that is why it looks so good for a eight year old.
Youngster's, christmas present to mom.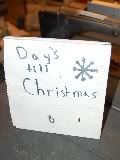 Younster's first project with a Jigsaw!
Youngster nailed it together!
-- Tyler, Illinois
---