Alright, so in my previous bloggings about the karate belt holder I have desciribed how I came into the project and how i planned and built the project. In this posting I will show you my finishing method and finally the installation, since I installed it today!!! Hooray it's out the door!!!
Anyway, so my finishing steps were pretty straight forward with this as it is with most of my work. I really like the look of tung oil. I like how it deepens the grain and brings out the natural appearance of the wood and it doesn't really do it by coloring the wood like stain or dye. I do use stains and dye in projects but I usually stick with natural finishes whenever I can.
I sanded the piece to a 220 grit with the random orbital sander and then use a vacuum and tack cloth to clean it.
Here I am using the tack cloth to remove the fine dust.

Then…. and this is the part of the project that I really get excited for. When working with walnut it is mostly a drab gray color during the project build. When people see it unfinished they can't really see the awesomeness of this wood species. But when that first stroke of oil is applied to the surface, it's like uncovering and ancient artifact that has been buried for a thousand years. That walnut grain just pops right out at you, and I always get a big smile on my face. I honestly think about the tree that I am working with. And the thought goes through my head that this tree has been growing for however long, maybe 60, 70, 90 years, and now I have shaped its wood into this piece. I find that amazing, but I guess that why I do it.
So anyway, I thought I would take a photo of the first few strokes of oil right after it was applied to the wood, unfortunately the picture doesn't do it justice but here you are.

And after I have applied the first coat of oil this is the finish I end up with.

So I don't use pure tung oil, it's actually a tung oil finish product by Formby which is a combination of tung oil and varnish. Here is the product.


This is a great product and I will definitely use it again, I like the smooth even finish it provides and it doesn't color the wood but really brings out the beauty of it.
After I applied the high gloss tung oil finish, I then applied a nice coat of high gloss lacquer to provide and even higher level of gloss. This really provided a "wet" look that I like to call water on wood. In this piece, due to it's curves and bumps the light glistens off of it in certain areas and doesn't in others. It's a really cool effect I think.
I let that cure out for two days before installing it.
From Tree to Boards and back to a Tree Limb – The Final Install
So now was the moment of truth, did I do all the math right and get all the angle right? Or did I mess up and the end of it not end up where it was supposed to be? Just a degree off in the beginning could result in a major problem at the end of the 32 foot long piece.
Well, the end result turned out great. I had never seen all together myself until we actually installed it. Only because my small shop doesn't have a wall that long. I was very pleased with how close I was able to come to making this fit as I saw it in my head. It went together without a hitch. So here are the final install photos before the belts were installed. The ceiling isn't really pink, it's just the reflection from the floor.

Here is the piece with the belts installed.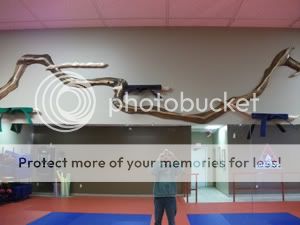 As I mentioned in my first blog about the piece, this is all about shaping our communities youth into model young adults. Much like a tree is shaped by all the forces of nature. So here are those youth in training with the new branch on the wall.

So that's it, thanks to all that followed me making this piece, it was a fun and challenging piece that I got to use some trigonometry that I learned years ago, I made few new jigs and found a great finish product. So all in all I am very pleased with the outcome.
My daughter starts here black belt candidate classes this weekend, and in eight more weeks she will take her final test. I can't wait to see it.
Joe
-- Joe Truehart - The Craftsmans Woodshop
---