This is one of those well intentioned projects that started and got put on hold for many varied reasons/excuses. I've decided I just have to finish it before my daughter is too old to be interested. Otherwise, I'll be sitting the playroom losing my marbles all by myself.
I saw these plans years ago in a Lee Valley flyer and went out and bought them along with the kit that supplies the ball bearings (marbles), xylophone keys and bell. Here's the picture from the catalog since the plans themselves don't have any photographs of the finished product (strike one against the plans themselves).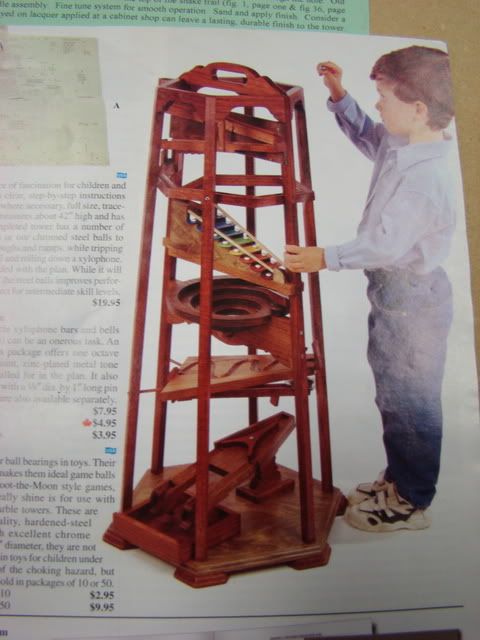 I have since seen this a couple of times on the web and some enterprising person created charity gumball machines on a larger scale that do more or less the same thing with a gumball.
Here's what you get in the plans….three green double sized, double sided, sheets of paper with "measured drawrings" and long winded instructions.
To Lee Valley's credit, they included an "errata" sheet with recommendations for altering the instructions to reduce ambiguity. This was certainly helpful, but clearly shows that the plans themselves were challenged to begin with.
Plan Review: Ok, now that I've griped a bit about the plans, I'll sum up my review of them. I have purchased plans before and had mixed results. This is on the bottom end in terms of user friendliness as far as plans go. They've tried to minimize the paper used, but done so at the expense of the person using them. In general I would not repeat this process with these plans…I would likely draw up my own next time.
I have been working on this 'on and off' for quite some time….but I'm dedicated to wrapping it up now, so I'll post my progress as I get each stage done.
-- Ian - Life's a game, if you don't play, you can't win.
---