It started years ago, when I found a camping chair that was easy to carry but sturdy enough to hold my weight. I bought a pair for the wife and I.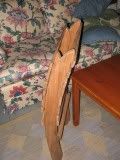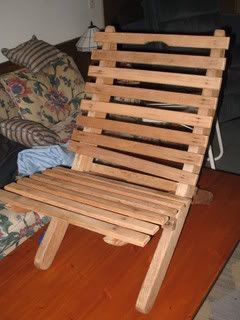 The seat slips into the back, and the top slat of the back acts as the handle. It's great for lazing about at a camp site, or anywhere. Unfortunately, they're two inch yellow pine, held together by staples, and wear and weather wore one of them away. I kept a leg for the back and a leg for the seat and made a pattern from it, but my first attempts at building one were … bad. Threw me off the idea for a while.
Years pass, and I get the idea I have enough tools together to make these chairs. So I pull the pattern back out, get a piece of 1×8 white pine, and try a proof of concept. This time the process was much easier, but I made some changes to the design, and it caused a few problems. Here's the PoC chair-like substance: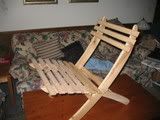 I did a partial inset of the frame rails for the back, and that caused an issue with having enough room for the seat to slide through. But that's why I chose an $11 piece of wood for the first attempt. I've already built a slat jig for turning 2×4s into slats, and I've got another jig to build for routing out the insets on the back.
I'll finish the slats for the back, slap a couple of coats of spar varnish on it, and put it out on the patio (I married a semi-reformed pack rat) and work on re-sizing the back pattern.
My eventual plan is to get some white oak and build a couple of chairs better-built to last.
More as things progress.
-- Making scrap with zen-like precision - Woodbutchery
---