What an exciting opportunity to design a project with the potential to have it published! I've always been interested in getting my work published and exercising my writing skills at the same time. When this contest presented itself I vowed to make sure that I submitted an entry and am just making it in under the wire. I hope that everyone enjoys my submission and as always will appreciate the comments of the lumberjocks community.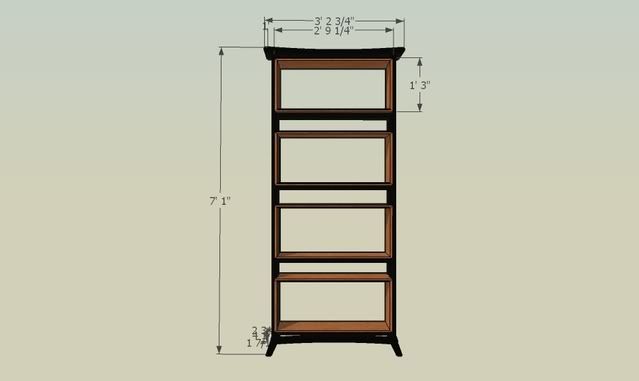 Beginnings of my Article
When I set out to design this bookcase I knew that I wanted it to have an airy look with shelves that appear to float versus the bulky bookcases that we're all accustomed to seeing. This led me to think of designs where negative space is utilized to accentuate the appearance I was after. My design would be a piece of furniture that would be used to display books and also decorative items that we all have around our homes that deserve a proper place to be displayed.
Another criterion that I wanted to make sure that I met was to minimize the expense of building the bookcase. Let's face it, quality hardwood plywood isn't inexpensive. In the Pacific Northwest one can spend upwards of $100 a sheet for quality plywood with 2 good faces. That said I wanted to limit the amount of plywood to a single sheet of plywood.
My final criteria was that the shelves should be able to accommodate larger books such as dictionaries and photo albums. A quick check revealed that the books that my shelves would house were not greater than 15" tall and no wider than 12".
Working within the stated parameters, I came up with the design that you see here. An open backed book shelf consisting of 4 boxes of edge banded cherry plywood on an ebonized maple pyramidal base with arched aprons. Notched 8/4 ebonized maple stiles support the boxes while not interfering with the airy feel of the shelves. The ebonized maple bent wood lamination top compliments the arches of the base while reinforcing the Asian influence of this piece.
As woodworkers I believe that we should always be looking to challenge ourselves in both design and technique. While at first glance this bookcase with its curved top, detailed joinery, and the pyramidal base with arched aprons looks intimidating. It's really just a matter of breaking the project into different sub-assemblies and projects:
1. The Book Boxes
2. The Base
3. The stiles that support the book boxes
4. The curved top
Your reward will be a bookcase that you can be proud of along with many additional skills to add to your toolbelt. With your new found skills you'll be well equipped to tackle any number of challenges in the future.
The Book Boxes
If you don't have one already, I highly recommend that you create a crosscut sled that is dedicated to mitering along your material's width. With this jig you'll be able to miter both lumber and sheet goods with accuracy, repeatability, and most importantly safety. All 3 of these are essential in this project. With a stop block positioned on your jig's fence, you'll make certain that all of your boxes' sides are consistent lengths.
Begin by ripping your sheet of ¾" cherry plywood to width at the table saw. Set your rip fence to 11 ¾". You'll make up the extra ¼" later when you add solid hardwood edge banding later.
Before crosscutting your plywood to length you'll want to add on your edge banding. This is done for 2 reasons:
1. In order to achieve a professional look you'll want the grain to flow around the box's perimeter.
2. You'll waste material and up with too little length if you first cut your sheet to proper width and then return to the table saw to flush up the edge banding later
Mill your edge banding to a thickness of 1/8". Its width should be just a few hairs wider than the width of your ¾" plywood. Yes, plywood isn't always the thickness that it's sold as. Making the edge banding stand proud will allow you to trim it flush with the plywood's surface once the glue has cured. I use a hand plane for this but you can use a hand scraper for this as well.
With your plywood's edges concealed by the edge banding you're now ready to cut your plywood to length. Return to the table saw with your blade set to 45 degrees and using your dedicated mitering sled, cross cut the box sides to length. Pay special attention to the order that you cut your pieces in order to preserve the uninterrupted flow of grain around the boxes. I mark my pieces with chalk in order to make sure I don't lose my place.
With your plywood box sides prepared you are now ready for the joinery that you'll use to assemble the boxes. I used my biscuit joiner but there are other options. For example: you could use your miter sled again to cut through channels for splines. If you choose to use splines you can show them off by using a contrasting wood or hide them by using the same stock that you used for the edge banding.
To assemble the boxes, spread glue along the mitered joint, in the biscuit slots, and on the biscuits. Use band clamps to pull the assembly into square. To assist with keeping the assembly square, I recommend fabricating and using wooden blocks clamped in the corners to help with alignment during the glue up. These are also available commercially.
The Base
To create the base start by milling the leg stock: you'll need 4 pieces of maple that are 2 ¼" square by 8" long. The extra length will allow you to cut the compound joints and still provide you with enough material to for the length.
Next layout the cut marks per the provided diagram and then proceed to the band saw to make the rip cuts that will form the inside tapers of the pyramidal base. Cut close to the line but make sure you don't go through it. Use a scraper or a sharp block plane to clean up any tool marks and bring the surfaces flush with the line.
To be continued……….
-- William woodworker/software development manager
---