Here are the Half-Blind joints I was commenting on in my prior entry. Here is the first one I did. I did it without tweaking the jig.
As you can see, there was a consistent gap. The tails didn't quite fit in snuggly. I made a slight tweak of the depth, and got a much better result: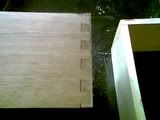 As you can see, I am creating a pine prototype as I go. I still make a lot of errors as a newbie and don't want to ruin the Walnut if I can help it.
-- Jeff, South Carolina
---