With the birth of my first child last year, I had an overwhelming urge to start building things that last. I picked up a ton of shop experience in college where I was the "master" student carpenter for the theater department. "Master" in this case meaning I was the least likely to hurt myself using any of the tools.
But building for a theater means lots of butt joints and staples/screws instead of actual joinery, and it meant I touched something other than plywood and pine once in 3 years on the job. I wasn't responsible for tool maintenance either as a student. So I have a lot to learn toward my goal of building stuff that will last.
My college shop was huge, had a big shiny powermatic cabinet saw, and all the other benefits of a dedicated work space. I have a one car garage that uses one wall for general storage, so I need to be economical about what I put into "my" half of the garage. And starting a family means that the tool budget is low on the priority list.
I already had a stack of handheld power tools, plus an inexpensive 10" miter saw. So with the basics taken care of for a little while until I feel the need to upgrade, I started looking for the two tools that I planned to spend the bulk of my budget on: a router and a table saw.
I've only used an old PC690 fixed base router before, but I really didn't want to spend a hundred bucks on one only to re-buy one with variable speed and a plunge base. While there are a million routers to choose from out there, the decision seemed relatively easy for a beginner: one of the multi-base 2.25 hp combo sets. So the Bosch 1617evs combo set went onto my Christmas wishlist. My wife happily obliged with a big old box under the tree. The plunge base will be a new adventure for me. I plan to put it through its paces once the garage warms up in a month or so.
So that left the dizzying table saw decision. Obviously, it'd be lovely if I had the space and budget for a cabinet saw with a permanent outfeed setup and 52" rails. Heck, in college our powermatic had a dedicated 4'x8' outfeed table, so I was completely spoiled. Still, even ruling out the biggest and the best, there are a whole lot of new and used saws left to choose from in my $600 or so price range.
I started doing research back in October or so, trying to read up as much as I could and touch as many models as I could in the local Woodcraft/Sears/HD/Lowes. It was clear that while a jobsite saw would fit my space very nicely, it wasn't likely to satisfy me for long. I focused on the hybrids and contractor saws in that price range. It became clear pretty quickly that unless a used saw came along, I was going have to do a bit more saving to get something that would work for the long term.
So with 4 months of CL searches under my belt, I finally snagged an excellent deal on a local Craftsman 22114 (OR35505) from someone who was moving out. I picked it up Saturday with my brother, and we even had the help of the seller's moving company to load it into our van. The two of us wrestled it out of the van back at my house, dropped it down onto an HTC mobile base, and wheeled it around the garage until we were satisfied. And at $300, I paid less than a dollar a pound and came out very very excited to get started.
So now, I have a few simple projects to accomplish to clean up my new-to-me table saw. The motor sounded fantastic and smooth when we tested it, so I'm not worried about it at all. The blade-raising handwheel squeaks like crazy, so I have to figure out where the problem is a presumably wd-40 it (if not, please stop me before I screw something up). The top has some surface rust and paint, so I'll break out some steel wool and paste wax to shine the top up. And the extension wings aren't quite flush to the main table, so I get to fiddle with set screws for a little while.
The last task will be a quick check that the blade, miter slot, and fence are parallel to each other. But before I can do that, I'll need to replace the stock blade which was still on the saw. Anyone got a suggestion about a blade in the $30-$50 range? I've used freud blades in most of my other tools, but I'm dubious about the relative benefits of the 1040X, LU86, and Fusion Premier thin kerf. My goal for now is to buy just one blade to last a good little while and work well in most applications. The first projects on tap are a rocking horse, toy chest, time-out bench, and a rolling cart for our kitchen.
Anyway, here are some pictures of my new toy and the rust on top. Any suggestions on where to focus my next woodworking dollars would be greatly appreciated.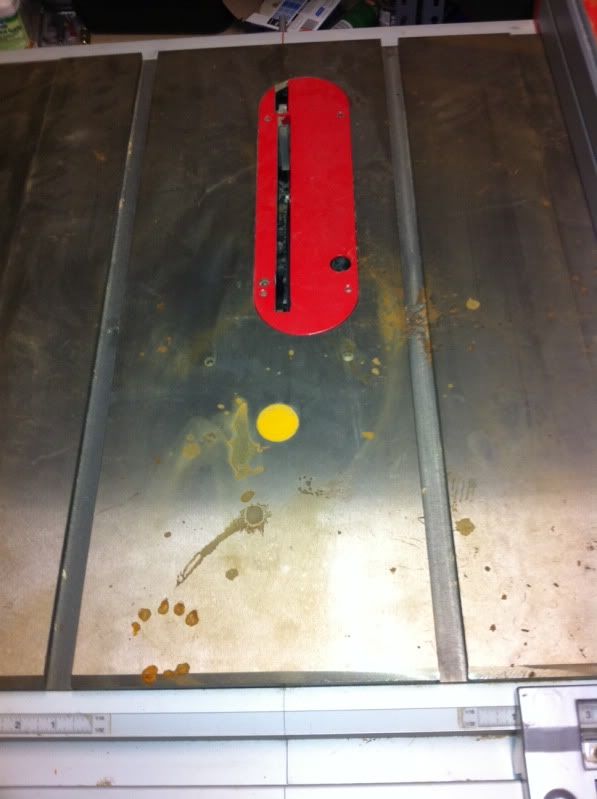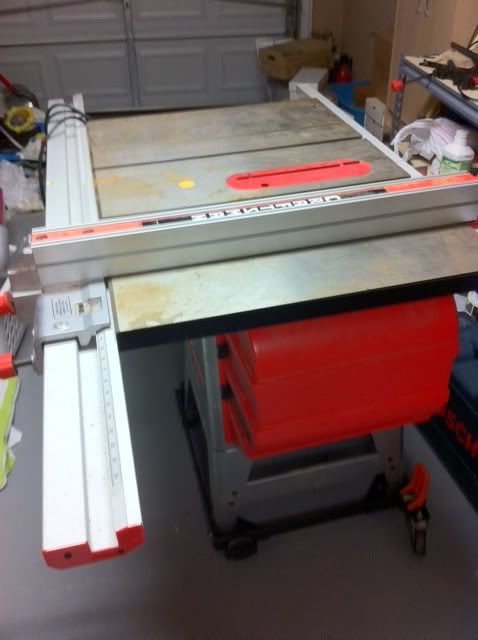 -- Mark - Springfield, Virginia
---