I've decided I really like making paddles. Very creative outlet and not only is it artistically challenging but the dynamics of the blade design are really interesting as well.
I've got 5 paddles in the works at the moment but #3 is different from my earlier ones. Straight shaft, teardrop, no laminations, dovetail. I added some geometric woodburning, somewhat primitive looking. It also has a channel, kind of the reverse of a dihedral feeding into the dovetail.
Paddle #3
I put in 8 3/8" dowels for strength along the blades.

The Dowelmax is awesome. This is just the most basic of uses for it but it made perfect indexing easy. I can't wait to test it out on some more complex geometry.

Glued and clamped with mahogany banding.

Handle glued up

Primitive shaft grip

Blade graphic

Channel and dovetail

I need to shape the handle and I plan on glassing the shaft. The blade will just get epoxy. Then the whole thing a marine varnish for UV protection..
Paddle # 4
Paddle #4 is a 5 strip cedar and 1 strip mahogany laminated shaft with a 12 deg bend at the blade. The teardrop blade is poplar. I've removed a lot more material from this one and it's the lightest by far. This one is intended to be my surfing paddle. I've built in a slight concave to the face of the blade to catch the water more (at least that's the idea). I'm testing a lot of blade face shapes. I want this light, fast and able to accelerate the board quickly for catching waves.
It has a nice flex but is still plenty strong. I pulled and pushed on it very hard to see how it will stand up. Well beyond what it normally be pushed to on the waves. I figured it would be better to know how tough it is before I bother doing any epoxy and glassing.
I still have the handle to do and the finishing work but I think I'm really going to like this one. Not only the performance but looks as well. I haven't decided on any woodburning yet.
It would be even lighter done all in cedar. That's the plan for my wifes which will be #6
Slightly concave blade face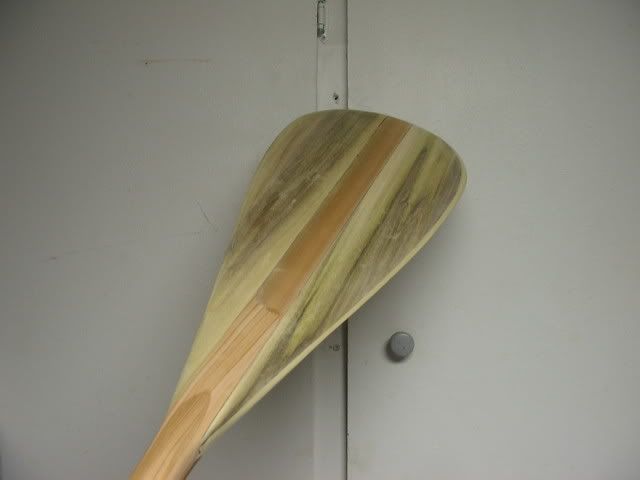 I put a coat of epoxy on the back of the blade since I had some left over from gluing the handle.

-- Bob, Carver Massachusetts, Sawdust Maker http://www.capecodbaychallenge.org
---