I thought it would make sense to share how I have Sketchup setup for woodworking. The basic settings make a difference in how Sketchup works for different purposes.
One caveat…I use Sketchup Pro…the free version may not have all these settings. I think it does but I'm not positive. I'll be installing the free version on my other computer shortly so I can check these things.
There are two areas where you will likely want to make changes. The Preferences window and The Model Info window.
You'll want to set the Template that Sketchup uses for its default drawing setup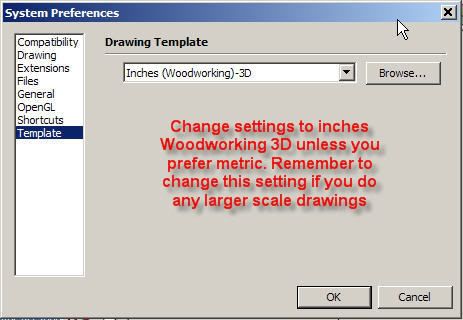 You'll also want to make sure your General settings are something like this. These are personal preferences that work well for me. I don't remember if I edited this or if these are the default.

You can also set the Shortcut keys in the preferences. I have all the basic editing commands shortcut, for example to make a component I simply press the c key, g for group, s for scale, etc… Click on the command on the left, then enter the shortcut key in the Add Shortcut box, click the + sign to asign it.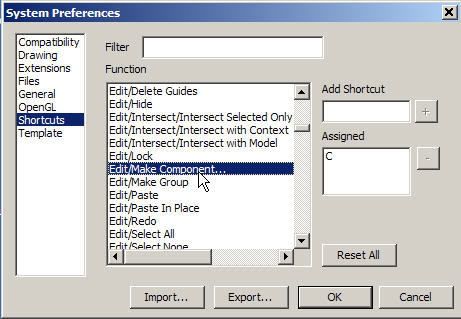 Other settings are edited in Model Info

I set my units to make sense for the precision I need…adjust as necessary.

I set my Location to the closest place listed. You can also give exact lat/lon in the custom location. These settings are used when you turn shadows on. Useful for siting landscaping features for shade studies and such.

These are the basic settings that you will want to set 1st. You'll notice that there are a number of other settings that can be adjusted. We can get into those later. I can answer any specific questions you may have about them if you need to know now.
One other thing that many of you that are just starting with Sketchup will find helpful is the Instructor. It gives context sensitive help in the form of mini animations based on the tool you have selected. Wish they had it when I was just starting.

Let me know if you have any questions.
-- Bob, Carver Massachusetts, Sawdust Maker http://www.capecodbaychallenge.org
---