I couldn't resist doing a blog on this. I have no illusions of winning the contest given the competition and since the whole idea of LJ is to share I wanted to do just that. So…no cards close to the chest here…I'm showing my hand.
Many of you have seen the bridge in our garden. I built it as a "temporary" solution 8 years ago from some leftover fence. Well it's starting to show its age and I figure it will be great to kill two birds with one stone. I'd like to build a longer more substantial bridge with a little less curve to it (the existing one can be interesting to cross in winter). And speaking of two birds with one stone. I plan to enter it in both categories I thought the challenge would be interesting. I'm also going to use all locally harvested wood (daughter's boyfriend is a landscaper and he just dropped off a bunch of cedar) to make this about as green as it can be. I plan on using sliding dovetails and pins, we'll see how it comes out.
Here is a slice of the cedar. I ran it through the bandsaw and hit it with 120 grit before a coat of oil.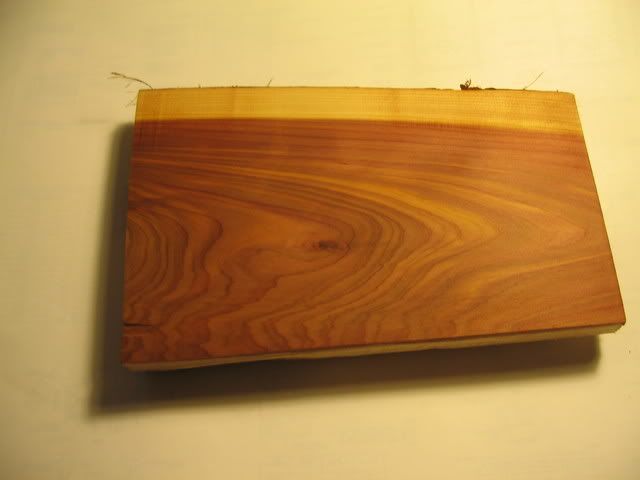 I should be cutting boards this weekend from the cedar. That'll be the next post.
Edited: I also meant to ask about using the green wood and movement. I'm going to take down an oak tree I've been meaning to get rid off. I'm going to cut some 4' sections and rive the supports and then dimension them on the bandsaw. I'm going to try and use the shrinkage to help hold this together. I'm planning on making my own oak pins and getting them very dry. The oak supports and cedar planks will shrink while the pins swell but I'm not sure what to expect for movement. Any ideas?
-- Bob, Carver Massachusetts, Sawdust Maker http://www.capecodbaychallenge.org
---