I braved the mosquitoes to get some more done tonight. I think I lost a 1/2 pint of blood. Gotta get some repellant.
You have to be brave at moments like this….splitting the tenon for the wedge. I think I'll cut them on the bandsaw the next time I try something like this. I think it would give better consistancy.

The pegs go in the back

The dog thinks there's a woodchuck under the shed.

OK…here it is…I couldn't resist…had to check some measurements anyway….I'll be damned if they aren't what they are supposed to be…:)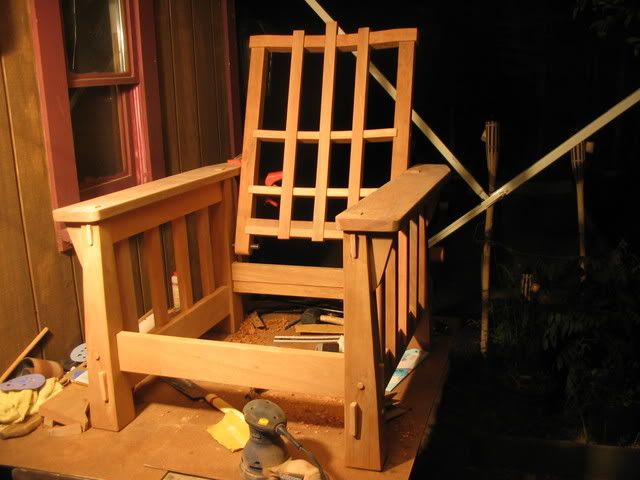 Here is a shot of the hinge. I will cut a 1/2" wooden washer from the caps to fit in the space between the back and the seat. That will maintain the 1/4" spacing between the back side posts and the arms as the back pivots.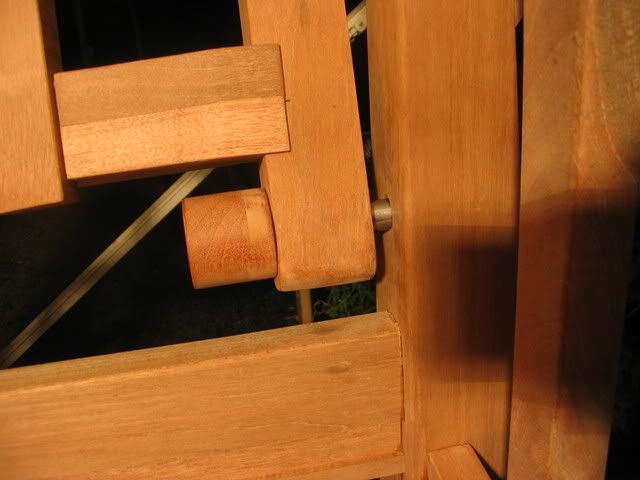 I like working at night…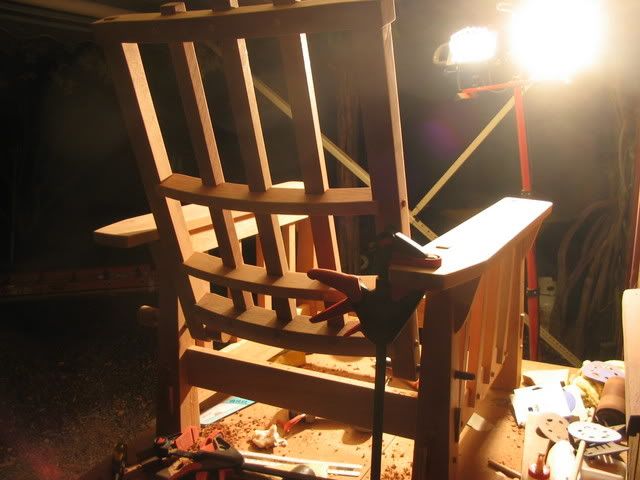 You can just barely see the threads in this lousy photo. I cut the caps from the lyptus. It is so hard and dense, it's great for this kind of application. As I screwed in the 3/8" pipe it self taps a perfect thread.

I think I'm on track to have a finish go on this weekend. My finish knowledge is very weak. What would you folks use for this? I'm thinking just a clear finish…no pigment….especially if I hit it with the mineral spirits and my wood selection looks good. I may want to enhance the contrast but won't know until I wipe it down.
It will probably take my wife a night or two to sew the upholstery. We are buying all new foam and material this weekend. Hopefully by mid next week it will be 100% finished.
-- Bob, Carver Massachusetts, Sawdust Maker http://www.capecodbaychallenge.org
---