I was working in the garage this weekend trying to get it in shape to set up the lathe I got almost a year ago. I came across some gum that I know is 30 years old. It was with scrap of paper with a lighting layout. It had the name Pepco on it. I remember that job like it was yesterday. The owner thought they would save a buck, so they bought their own hi-pressure sodium lights. They were cheap!! Cheap because they were not power factor corrected. The volts and amps were about 180 out of sync;-( My conduits were not big enough because I laid out for normal, legal lights. It cost them a bundle to wire the high amperage circuits, plus the power company made them put in power correcting capacitors or they would not connect power to the building. Anyway, the gum isn't gum anymore. I don't know what it is or what to call it. Maybe Wrigley knows??
I thought I'd post this ¾ done project that has been lying about for, well, a long time…. Most of the projects I post are rather rough in woodworker terms. I thought the gang will be happy to see I am not just a wannabe ;-)) I have no schedule to finish this up. I don't shoot ML pistol anymore.
It is a scratch gun, not a kit gun. I assembled the parts from a friend who was in the muzzle loading gunsmith business a while back. The stock is maple, not really high grade curly, rather plain. It is far enough along to be shot if I fitted a sight to it. I haven't found the hammer yet, but I'm 100% sure it is there somewhere and will turn up. If not, they are easy to come by.
Inletting the barrel, tang, lock and trigger guard does take a bit of time and patience, trust me!! ;-)) After the inletting, most modern gunsmiths bed the parts with epoxy to strengthen the area. That is what I did, but it doesn't help with the fitting and inletting. One little sliver missing will stick out like a sore thumb ;- (
The parts come as rough castings. They have to be filed and polished. The barrel has to be draw filed to take the machining marks off. The lock is the only part that comes ready to install.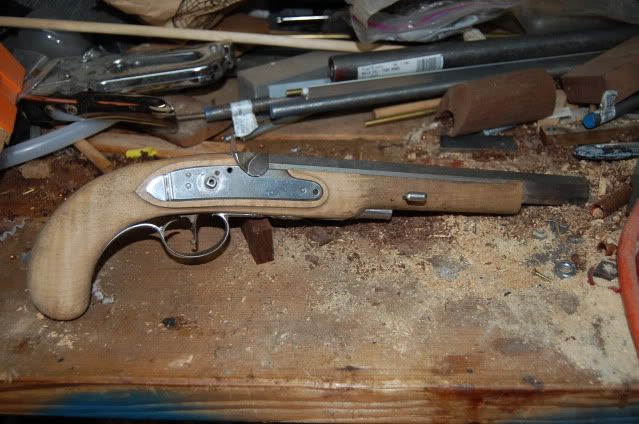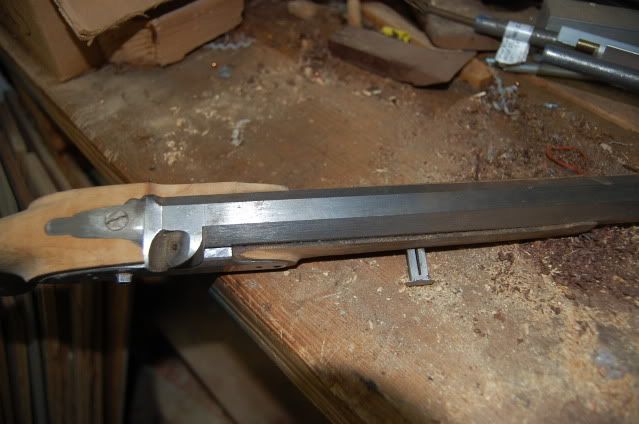 -- Bob in WW ~ "some old things are lovely, warm still with life ... of the forgotten men who made them." - D.H. Lawrence
---