Early this morning, before the sun was even up, I was sharpening. When you're a hand tool guy, sharpening is something you must do, and must do well. Sharp blades will slice easily through wood. Dull blades, not so much. Sharpness was essential for today's work. Why? Today was the day to shape the legs. If you recall, when I left off yesterday, the legs were less than spectacular, to say the least. How about a quick recap?
The jigsaw didn't exactly make a good, square cut, and that threw things off a bit as far as getting stuff done was concerned. However, it wasn't a big deal. Stuff happens after all, what defines us is how we deal with that stuff. Me? After whimpering and pleading to the heavens "Why me?", I sucked it up and figured that now would be a wonderful time to use a spokeshave. I have a #51 that was one of my early purchases, but haven't have a need for it until now. A few quick tests yesterday showed that this would do the trick.
Now, for today. On December 19, 2007 my grandmother passed away after being in a coma for several days. It's been hard for my small but very close family, but life has to press on. The morning today was spent going through my grandmother's possessions, as it has been for the past several weeks. It's not a pleasant task, but a necessary one. However, it kept me from doing a great deal on the bench. That's OK though…at least my woodworking was available to help me get things straightened out and to provide something positive.
I started on the first leg, the same one I had tested yesterday, with the trusty #51. Talk about some rough going! The grain reverses itself at the bottom of the curve, which means that, if you go to far, you will have tear out. Also, the chatter was awful from this thing. I tweaked the blade as many different ways as I could, and eventually got a decent surface. However, it was still rough. The #51 has a flat bottom, which doesn't work well with curves. While you can get a semi-curved surface with one, you'll still need something else to really get it smooth like a curved bottom spokeshave or a good quality rasp.
Now, take a guess what I don't have. Did you say a rasp or a curved bottom spokeshave? Congratulations! That's right. I don't have either of them. So, I did something I generally hate to do and broke out the sandpaper. The tear out was significant, and I was broke so I had to use what I happened to have around the house. Luckily, I had some 50 grit, and since I wanted aggressive, this was the place to start. I then went to 120 grit, and finished up with 220 grit. I got a nice, smooth surface with this technique. I just hope it won't be a problem when I move on to finishing.
The second leg went much easier so far as the spokeshave's function went. I don't know if it was the grain, or that I had finally gotten the hang of the tool, or I had it tuned properly at last. I really don't, but I'm not looking a gift horse in the mouth right now. The sanding needed to continue, just for continuity sake, but was much easier on the second leg. The still need some sanding, but the shape and curves were my focus for today. Sanding will, hopefully, be done tomorrow.
Now, here's a few shots of the new, sexier legs: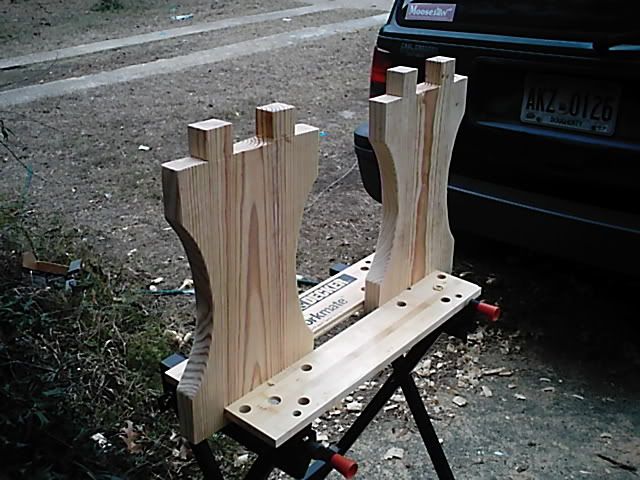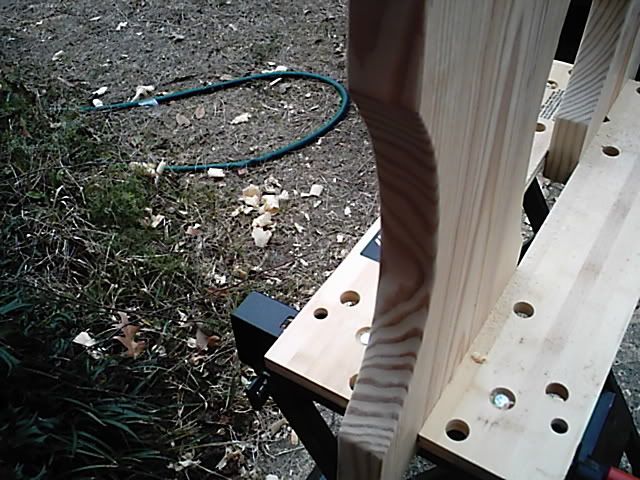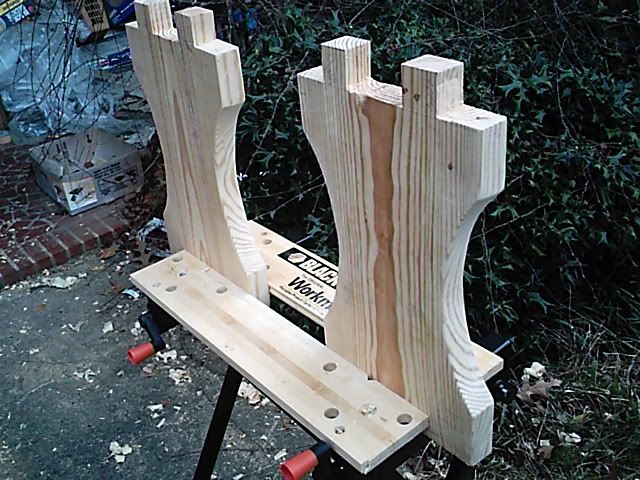 Now, something I tried to work on yesterday and today was to not be such a perfectionist. I have a bad habit of tossing a project because it's not perfect. Instead, I'm trying to make it good enough that others won't notice. When Jennifer got home from grocery shopping, I asked her "what, if anything, is wrong with this leg?"
She studied it for a bit, and then said she couldn't see anything. Now, I knew every lump and bump that wouldn't go away on those legs, but she didn't. If she didn't, when I actually asked her to find stuff, means they shouldn't be noticeable to others either. I am trying to stop letting the "perfect" be the enemy of "darn good". So far, so good.
Tomorrow is to finish up the tenons, and to cut the mortises, and hopefully sand, dry fit, and put the first coat of stain on. We'll see how that plan holds up though, and go from there.
-- "Give me your poor tools, your tired steel, your huddled masses of rust." Yep, I ripped off the Statue of Liberty. That's how I roll!
---