It's been a little while since I posted in this series, but it's oh-so-worth the wait in my humble opinion. I have goodies aplenty to share with one and all. First, the obligatory Norvell Shapleigh tool. This one is a smoother hand plane. I can't really call it a #4 or a #4 1/2 either. It's length is halfway between the two, so I call it a #4 1/4 instead. Actually, it's a #4 1/4C since the sole is corrugated. Sorry in advance for the crumby picture. Hopefully, I'll get a better pic later.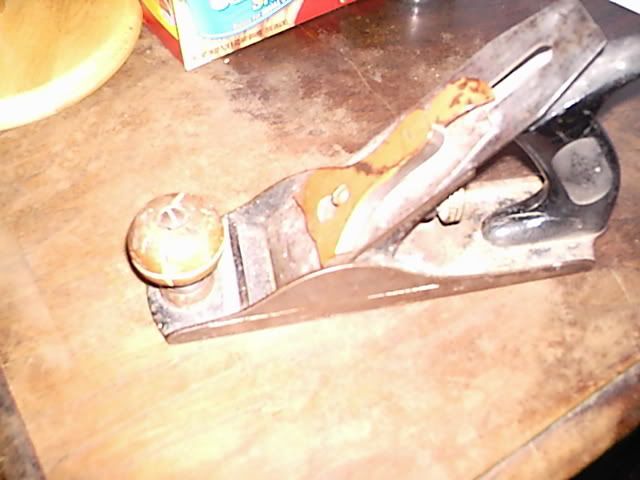 Obviously, the lever cap is broken, but I've got a line on a replacement for what I consider a pretty reasonable price.
Next is my hand drill. This pic is even worse, but again I'll try and get a better pic this weekend.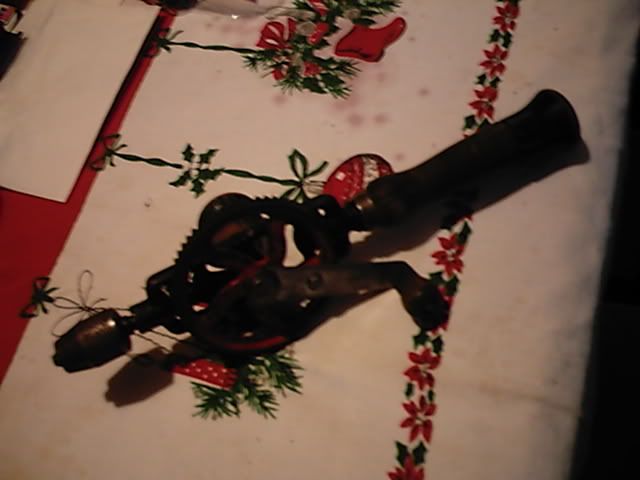 It's in pretty good shape, all in all. I'm really not sure who made it. The only markings on it is SW037J. If anyone knows the details on this one, I'd be appreciative.
Next is the one I picked up for my son. I plan to restore it for him, then add it to a tool kit I'm putting together for him. Since he's only 6 at the moment, these type tools are perfect for him! This is a Millers Falls 2500B. Yep, the kid gets the Millers Falls, I get the no-name. That's cool though. It just means his will be with him for life, and mine could become an excuse to snag another couple of drills.
And last, but certainly not least, is the saw I strived oh-so hard to get. This is a Disston #4 backsaw. The medallion dates it to 1896-1917, but the stamping on it says 20th century, so say 1900-1917. Still, it's an old saw but in pretty good shape. The teeth, however, are in horrible shape. I'll have to do some serious jointing when I go to sharpen them, but that's cool. Luckily, this saw is 14 ppi, so it's perfect for what I wanted it for. I was worried I'd have to recut teeth to the ppi I wanted…but I lucked up. I can't wait to get this bad boy tuned up and cutting dovetails.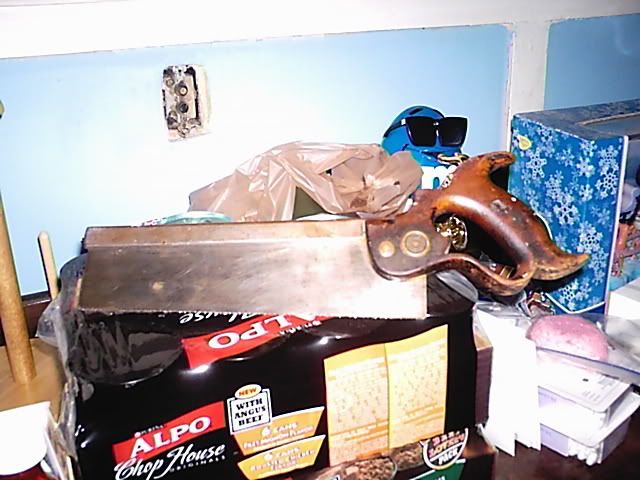 I'm currently holding for some molding planes off of eBay. Only four still had blades, but they looked promising for the $18.00 price. Also, I have a 14" backsaw and a DE5 jack plane that should be arriving soon. I'll definitely have to let you all see pics when they get here!
-- "Give me your poor tools, your tired steel, your huddled masses of rust." Yep, I ripped off the Statue of Liberty. That's how I roll!
---