At the same time I got my Disston D-8, I picked up this little gem. The seller on eBay saw the word Shapleigh inside the diamond logo, and recognized it for what it was. What he didn't see was the Norvell before it. The seller felt that this was likely a Harvey Peace saw, and after some research, I have to agree. It looks an awful lot like a P-26. Unfortunately, this looks like it was made after the Disston buy-out, since the medallion simply says "Warranted Superior". Still, it's a cool saw. So, without further ado, here's the before pic: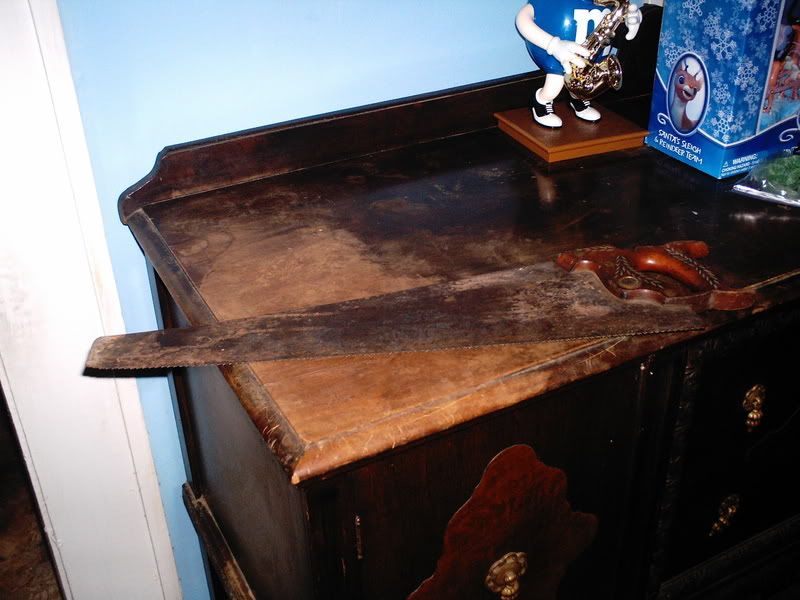 As you can tell, this thing was in pretty rough shape, but not as bad as the Disston I posted about earlier. Well, it was and it wasn't. The Disston was more discolored, but this one had more deep rust. Still, I took the mineral spirits and 320 grit sand paper to this puppy and cleaned it right up.
Here is your after shot:
Again, my photography skills lack severely. There looks like there is rust still on the blade from that photo, but I can assure you, it's not there. There is still some discoloration on the blade, but I was hesitant to get to deep since there was still an etch on the blade that I wanted to preserve. The handle for this one was still in pretty darn good shape too, so there was no need to really monkey around with that either.
I did do a cleaning with mineral spirits, just a quick wipe-down really, but it perked the wood up just a notch.
Now, this saw is NOT ready for work. Besides being horribly dull, there's some unevenness in the blade near the toe. It's nothing a hammer wouldn't fix, but I just haven't had a chance to try and fix yet. Luckily, I have a great tutorial on just this kind of thing bookmarked, and I'll be taking a closer look in the near future.
All in all, this was a nice project to do to kill an hour or so. The results were definitely worth the effort, and I'm actually eager to find another saw to restore!
-- "Give me your poor tools, your tired steel, your huddled masses of rust." Yep, I ripped off the Statue of Liberty. That's how I roll!
---