Sorry, but Aerosmith's version was on the radio earlier and it just got stuck in my head, hence the title.
It's been an interesting week with tool gathering for me. Yesterday, for example, I was trying to decide if I wanted to fork out the money for a new router plane, or plow plane. I was looking at the Veritas version of both, since I really liked all that I read about these planes. Just for fun, I searched eBay for planes, and low and behold…a #45 combination plane!
Now, it was in rough shape. It was a user, and had been it's hole life. However, it looked like mostly surface rust to me. So, I snagged it. For just under $23 no less! (All photos snarffed from eBay)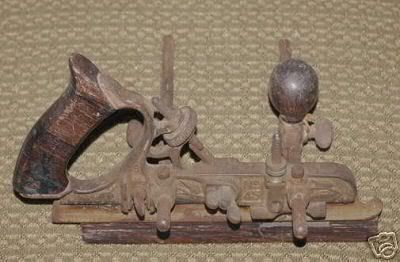 Now, it's not complete. It's missing the sliding section of the plane, but I have one I'm bidding on on eBay, and if that one falls through, I've got a line on another one online. I'm hoping for the eBay one though, since it's here in the US.
Also, I'm bidding on a set of cutters. I've got several others I'm watching as well. Hopefully, I'll have enough to do the groove for my flute box, and some tongue and groove cutters for a couple of other projects I've got in my mind. This may also help me with building panels for my storage bench project. Who knows…
Another of my purchases this weekend was a Diamond Edge 7 jointer plane. For those who don't know (like I was until I did a little research), these jointer planes were put out by Shapleigh's Hardware, but were built by companies like Stanley and Sargent. With that in mind, I figured what the heck. At only $19.99, how could I say no?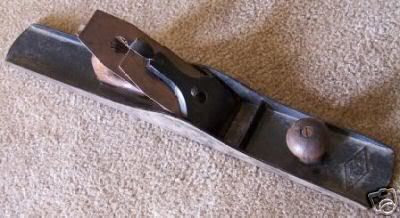 All in all, an eventful weekend. But wait…there's more!
Yeah, I sprung for a set of water stones from Rockler and a honing guide. While I probably could have waited on it, I just didn't want to. I had been planning on going Scary Sharp, and had ordered a set from Rockler, but it was over sold. I took this as a sign from above and went water stones instead. Seriously, I mostly wanted to find a method that wasn't so disposable. Part of what I like about building my own furniture is the idea of building heirloom pieces that will last for generations to come. Even if my own family only keeps a few pieces, the idea that my work could live on in homes scattered all over the US makes me feel kind of tingly.
Not only that, but I'm kind of tired of living in a disposable society. I had a DVD player that crapped out while still under warranty. I took it back to the place of purchase for it to be repaired. The problem is, they don't repair them. It's cheaper for them to give me a new one, than to fix it. While I ended up with a new DVD player out of the deal, it still bothered me. Why build stuff with the intention of throwing it away? Why not build it to last a lifetime? That's kind of why I decided not to go with Scary Sharp. While it may sharpen fantastically, it still is dependent on sand paper, which is disposable.
Granted, water stones won't last forever either. But, I'm sure we can all agree, they will last a long, long time.
I'm looking forward to using them, and my new toys!
-- "Give me your poor tools, your tired steel, your huddled masses of rust." Yep, I ripped off the Statue of Liberty. That's how I roll!
---