So the penultimate episode in my saga with the M7.
Today I finished cutting all the timber I could with the M7. There were several really big, but short pieces I would have liked to cut up, but they were less than 1 meter long, by 75 cm wide. Very heavy, but too short to manoeuvre onto the M7 alone – The M7 is really designed for pieces longer than 2M in length.
This was a physically tiring exercise, with only one person, yesterday I did have some help and it made the job much easier – the biggest problem was the short length of the logs – has they all been over 2 M long, it would have been much easier. So an early shower, and back to tidy up the property tomorrow.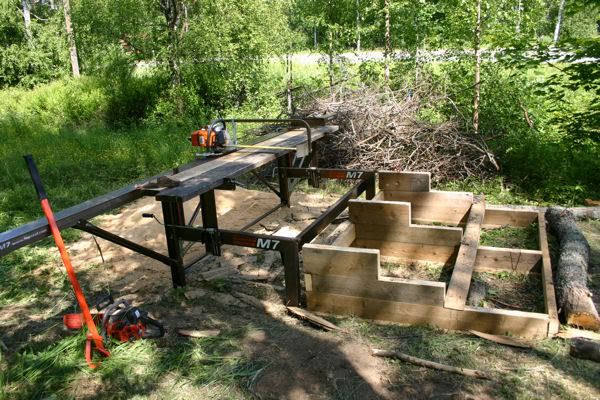 This shows the "steps" that were used to raise the logs to the M7 bed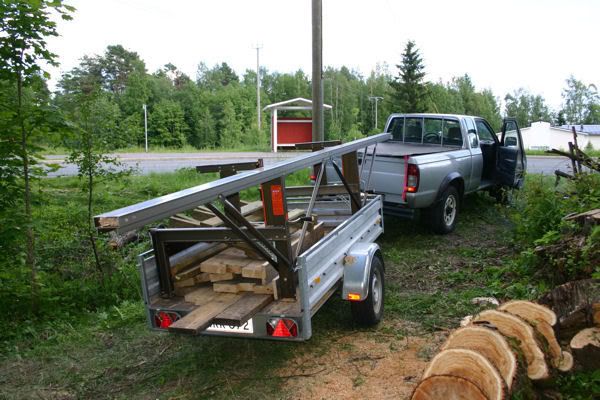 All packed up and ready to go home (75M) – The trailer is an 8*4 and everything fits inside nicely, just have to watch out for the overhang front and rear (1.3M)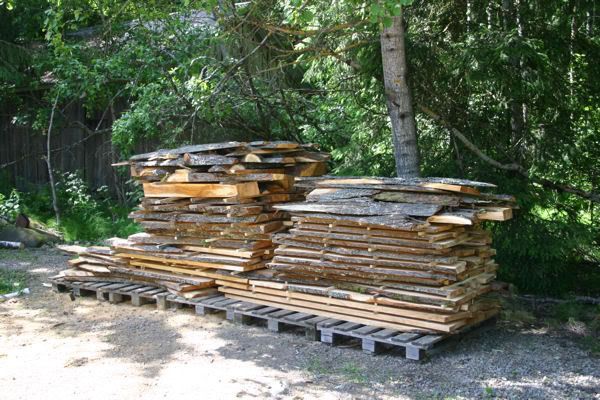 Here is the final stack of lumber – it is 40% 6/4, 20% 8/4 5% ≥12/4 and 35% outside pieces and garbage. The outside pieces make good weights to hold the lumber down. I just have to cover it now with a plastic sheet.


This is a sample I cut on my band saw some weeks ago. It was only a ½ " thick so dried quite quickly. The TUOMI (Finnish name for the tree)/Bird Cherry cuts and sands beautifully, very similar to American black cherry, but the variations in colour are more pronounced in this specimen, than the Black Cherry I have in stock. This piece was sanded to 220 grit. On the Left side it is finished with a natural paste wax and on the right it is finished with Cherry paste wax. The photograph does not do justice to the colours.
As requested, the concluding part, when I have recovered some energy, with be a review of the M7 and its operation.
-- Tony - All things are possible, just some things are more difficult than others! - SKYPE: Heron2005 (http://www.poydatjatuolit.fi)
---