I posted this in the forum but some ppl don't go in there…..If you do, sorry for the repetition…..
Ok, so I gathered some ideas on how to make diamond banding (example below)
Note grain directions: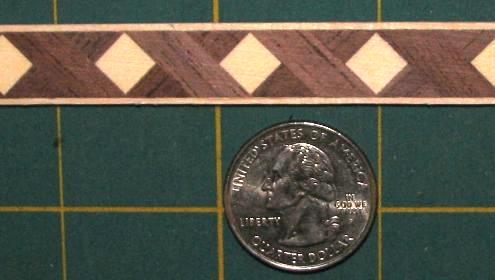 I made a lot of drawings and cut paper shapes to help me visualize the cut process, one of them being TT's idea in the previous thread. This method although it produced the diamond pattern, it was well over 75% waste and grain direction was wrong compared to the commercial bandings and period pieces I've looked at. So, I went back and came up with this idea:
I stack three pieces, each layer the thickness of the desired diamond, then chamfer the dark part and crosscut strips the same thickness as the diamond. Perfect so far, correct grain direction and VERY little waste. Now I wonder how to chamfer the other side….So I made a little sled with a rabbet in it as shown:
Yes, I kinda knew what would happen…..the tiny short grain could not stand being routed and crumbled to bits. Had I not had this piece trapped as I did, no telling what would have happened.
Anyway, I'm stuck again….I'm so close, but this last chamfer is killing me…..Is there a better way to make this cut or a better way in general to make this banding?
Thanks for helpful input!
JC
-- Somewhere, something incredible is waiting to be known. -Carl Sagan
---