Well, here goes; my first attempt at a blog, and because of that I'll keep this entry short to see how my editing and pix uploading skills turn out.
The purpose of the blog is to chronicle the design, construction and outfitting of my new shop. Assuming there is interest, I'll add entries as progress is made. My hope is others can benefit from seeing the mistakes I'll surely make along the way.
I guess the first question is why build a shop. The answer seems a bit obvious since who doesn't want a new shop? My current shop is much bigger/nicer than any shop I've had before in the various houses we've had covering 13 relocations across many states and a few countries.
My interest in things wood expanded greatly after I retired a couple of years ago and with newly acquired toys the current shop now seems cramped. As stated previously, my skill set easily bounces around in the shop but my ego just barely squeezes in. The real impetus was my bride's insistence that I lock and seal with tape the door to the shop (its on the lower level of our house). Seems the shavings and misc. bits that trailed my departures from the shop didn't add to her decorating style. That forced me to enter/exit the shop from an exterior door which made me crankier than normal.
Here are a couple of pix of the existing shop which is about 400sf. Notice the two 90 degree corners and angled wall making layout a bit difficult. The fact that I have lots of junk doesn't help either – but we jocks don't admit that to loving spouses.
.
.


.
.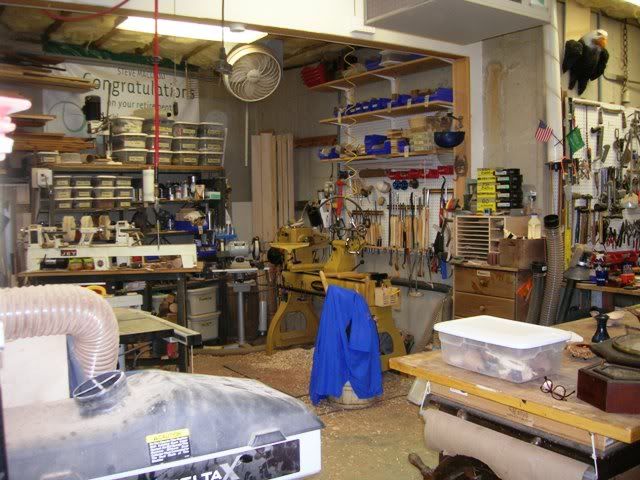 .
.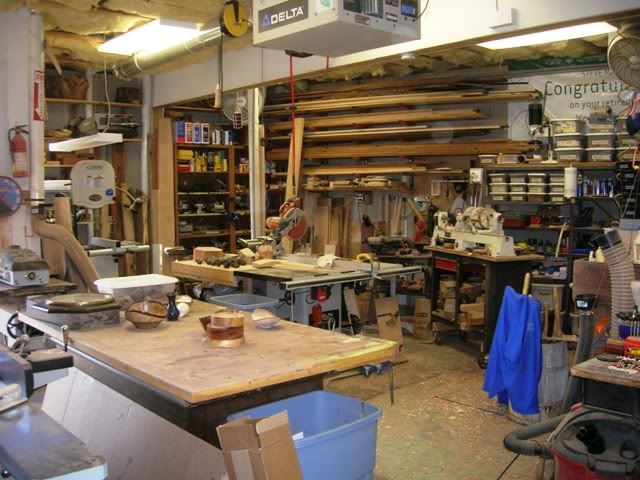 .
.
Next entry will show the new site (we broke ground last week) and talk a bit about how I sought and received help in sizing and laying out the shop.
By the way, I'm wide open to any suggestions and will be pleased to give credit for those that work well and take blame for any that don't do so well.
---