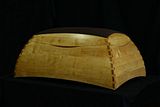 I've been triple dared to show how I dovetailed my chest, so I'll give it a try.
After shaping the walls, I stood them up at the right tilt individually. In this position I could make a simulated miter line by means of a jig that guided a batten with a pencil at the end.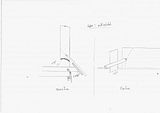 After cutting almost to the line at the bandsaw (1mm clearance at bottom, 7mm at top), I stood them up square in corresponding pairs, and at the right tilt. While in this position I could plane the end of each wall flush with the corresponding outer flat.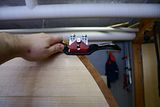 When this was done I could scribe the inner profiles of each wall onto the other. This is a good, trustworthy reading. -But note that since the walls are sloped, the end of each wall will not correspond with the inner profile of the other wall while working on a flat table, for that one would have to move the wall in the sloped plane. Also the inner profile doesn't match the outer perfectly, but that doesn't matter too much.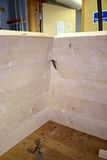 I modified a scribing gauge to work at 180 degrees, so I could scribe an approximate tail and pin bottom on the outside. Inside I had the trustworthy transfered line.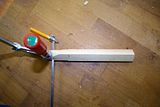 I don't have pictures or drawings of the tail layouts, but I think it is easily explained.
I put a plumb line down the center of each short wall, where the tails would be. Then I marked out the tails width with a compass. Using a large protractor I made a mark on the plumb line at the correct angle from the tail compass marks. Then I used the mark on the plumb line to draw one pair of tail sides, ensuring that both corners would be mirrored. However, each tail on the same side might have a slightly different angle due to inaccuracy, but it doesn't matter in any practical way, and it is not visible.
When the tails where marked, I made a level line by measuring out the tails: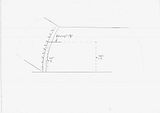 Now I had to cut the tails while the walls where standing in their correct position but slightly protruding, so I could use the level line as a sawing guide. I stopped 3mm from the line, removed the waste with a fret saw, then chopped to the inner -trustworthy- line with a chisel. Now I had to transfer this to the outer tailbottoms, so I taped a fence onto my dovetail saw: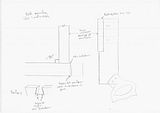 After cleaning up the tails, I transfered the tails to the pins with an awl, and the process is pretty much the same from there, except that one must take care never to make the pins too small. I made them a little too large, and spent alot of time adjusting them with a paring chisel.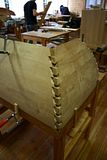 -- -Steffen, from Norway
---