Let me preface this by saying one thing, my first bunch of blogs are filler. I am in a holding pattern with projects as I get the yard and house ready for Thanksgiving. The result is I spend inordinate amounts of time daydreaming about my list of woodworking projects, which I hope to fill these pages with starting in early December. I may try to steal some time to restore 2 hand braces (my first) that my wife picked up at a garage sale. One of them is missing the jaws in the chuck, but I still want to make that look good enough to hang up, and I may luck out and figure out where to get a replacement :).
Without further ado, my first project. This started just after we moved into the house about 12 years ago. I am an avid reader and I love my books. I am the guy you hate to borrow from because I don't like people opening them enough to crease the spine. We had many of those particle board pseudo-bookshelves you get from the big box stores or garage sales, and they looked like yuck. It took three years of dropping hints to the wife before she allowed me to allocate budget for it.
She finally gave the ok, and I went at it full bore. Now I am not going to claim it is an upgrade, because I used MDF, but we were painting it, and I hate hiding wood. I way overengineered these suckers, but I am sure there was a reason for this, since I was pretty smart back then. They are permanently mounted to the wall, and I with my 250 pounds, can scale those suckers like a monkey and they will not budge.
MDF proved to be a bear to paint so I wound up using sheetrock mud to go over all the cuts and that seemed to paint better. I used dowals on the front and back lip because I refused to use any screws or nails. I did find studs and use 10 penny nails to nail the back lip to the wall.
The work was done in the room, cutting, sanding, routing, every bit of it. Conceding to my wifes wishes I taped some plastic painters tarp over the doorways to confine the dust, but I knew I was safe to work in there without any sort of breathing protection. The coughing, hacking and wheezing I suffered over the week or so of the project did nothing to disprove my brilliance. I had to make one shelf removable because the air filter for the heating and air was in the way, but other than that and a few small shelves in the middle, it was permanent.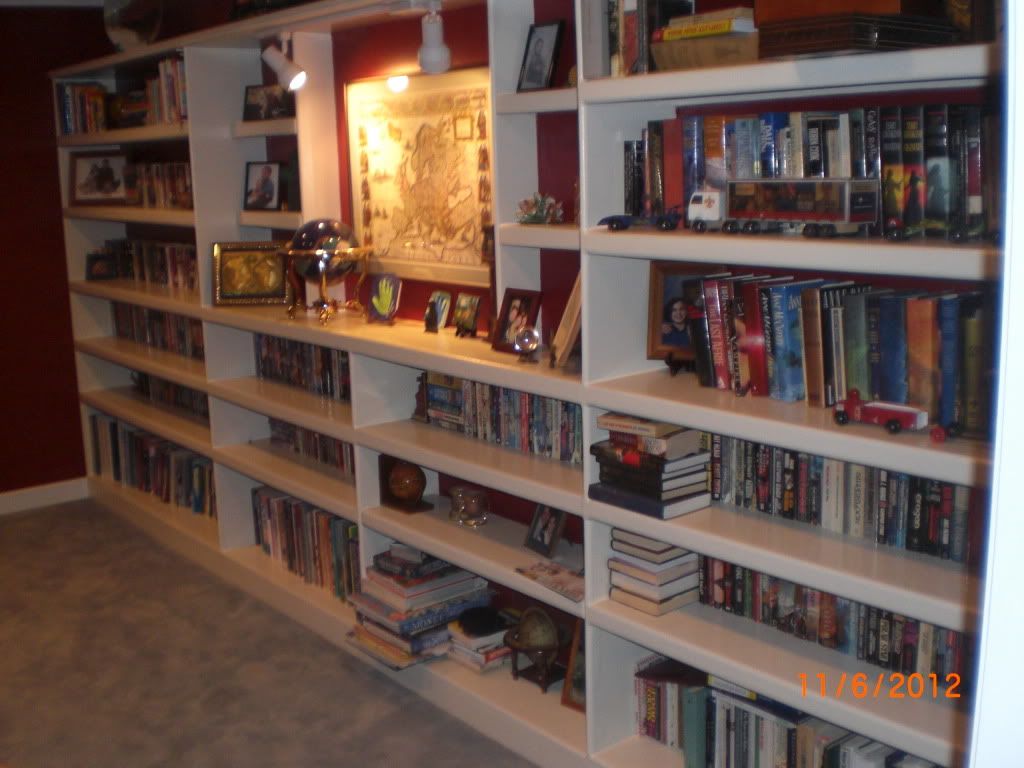 Above is a picture of the shelves, but bear in mind, photography is not my strong suit. That shows about two thirds of the shelves and gives you a feel for how basic the project was. The bear was routing the molding to match the existing baseboard. I probably should have just found a match, and faced the baseboard with that or redone all the baseboard.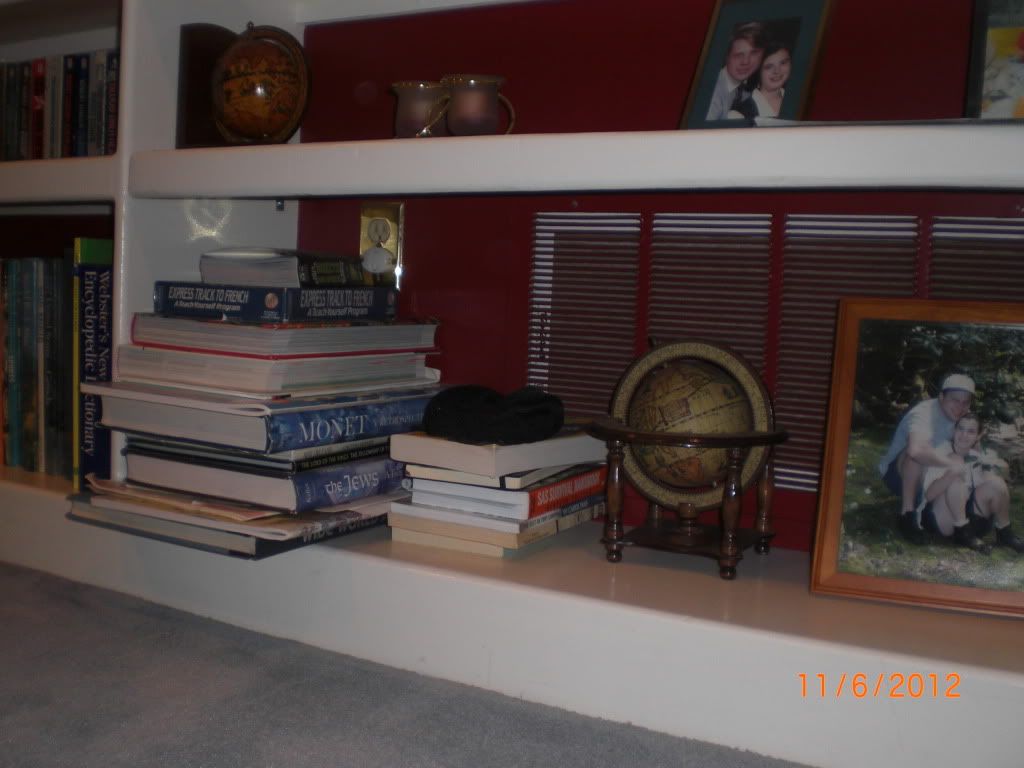 Next we have that cursed filter vent I needed to access. It does not have the same strength as the rest of the shelves and does not have the seamless look of the rest. Just had to run with it though.
Last we have the molding at the top of the shelves. That was a last minute addition, but really made a huge difference in the overall look.
I learned that cutting in a straight line with a cheap table saw using huge whole sheets of mdf sucks. I had the big box store cut down any big sheets from that point on to a more manageable size. I started to reconsider my no face mask when working with mdf stance. It was not until this year that I finally adopted that strategy full time. I also started to consider the merits of purchasing a biscuit joiner.
My next project, an arcade cabinet…
-- Henryk, South Carolina
---