Bought this at Auction over the weekend, mostly to keep it out of the hands of an antique dealer. Nails at the hinges are the oldest I've ever seen – clinched and appear to be hand forged. Handles outstanding, also clinched. Plane tracks visible inside and out. But, no lid.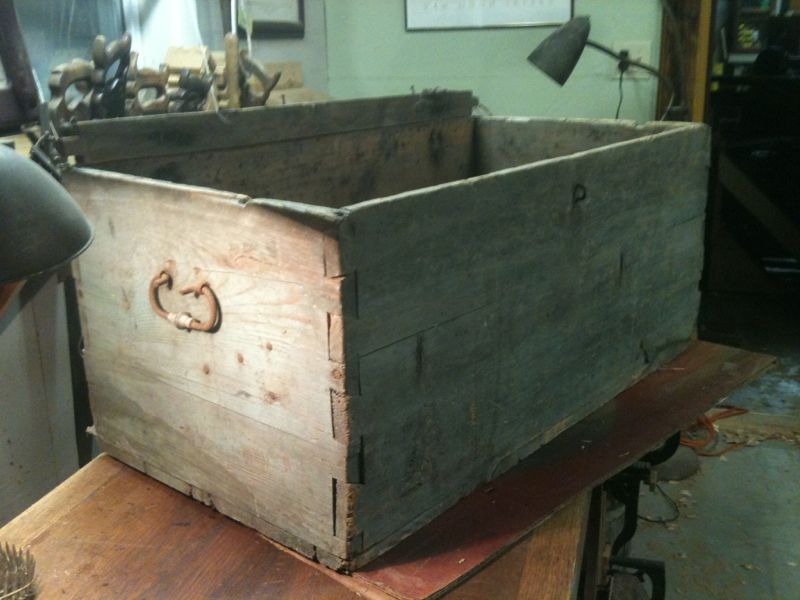 There are a few round (modern) nails driven in at the corners that I'll remove, and there are four more driven across the dovetails halfway up each corner (one visible in the pic) that would require surgery to remove. The whole chest needs to be disassembled and re-glued / clamped to make it right, and that's what I'm inclined to do… I'd like to complete this interior, build a top and make it a tool chest again.
No timeline, most important aspect is to be respectful of the history of this thing. For example, I'd love to keep the hinges installed as is and build onto the one board that still remains from the top (also evident in the pic), but what a pain in the arse to work that way when I think of what it'd entail. If I could be certain that the forged nails would live through the trauma, I'd pull them, straighten then re-use. I just don't know yet.
Feel free to comment / opine below, felt like sharing this with my LJ friends and collect some other perspectives. Thanks for looking!
-- Don't anthropomorphize your handplanes. They hate it when you do that. -- OldTools Archive --
---