EDIT: Updated to eliminate PB BS. Smitty
A short update….
I've decided the back will be 1/2" thick, and to set the backing material into the carcase means rabbets. The two side pieces get stopped rabbets; we'll do those after getting the process down on the top piece.
Disassembled the cabinet (in dry fit mode since last installment) and headed to the bench. Set the 1/2" measurement to the fence and the depth stop of the #78, applied wax to the sole and fence surfaces and made quick work of the cut. Used the #95 to ensure the squreness of the rabbet wall… What a fun tool – swirl shavings!
I marked the sides, then, for stopped rabbets. Chiseled in the end depth, and continued with the fillister.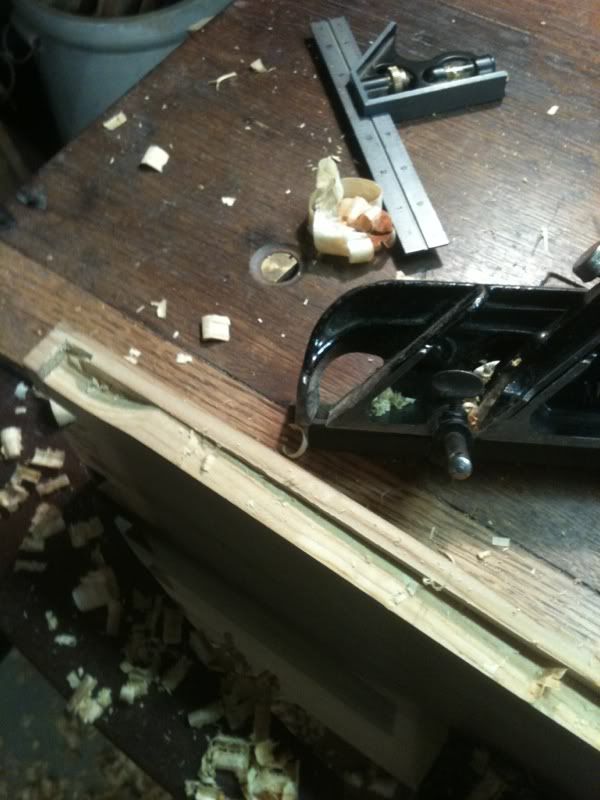 The chiseling wasn't the 'end all, be all' by any stretch, so I moved the iron to the 'bullnose' position of the plane. That worked for one side board, but then the rabbet end switched on the second board so the depth stop was now OBE… Chiseled awhile, then reached for a plane I have openly challenged as being useless: The #75 bullnose. It worked reasonably, I will admit!
Next up is fitting the depth of all inside partitions, and tackling the tambour door!
-- Don't anthropomorphize your handplanes. They hate it when you do that. -- OldTools Archive --
---