EDIT: Updated to eliminate PB BS. Smitty
Top and bottom of the cabinet have been defined, but not the space for the jack planes and tambor door. Because there a plenty of pics of the dado process, here's what the defined spaces look like in dry-fit mode.
And the plane partition has been shaped to match similar pieces in the inspiration piece.
The interior of door'd section then got some attention, again driven by something I saw (and posted) a couple of weeks ago. This shot of the interior of a craftsman-made tool cabinet has the look that's attractive to my eye. As strange as it seems, I particularly like the area under the drawers…
How to incorporate? For that matter, what material? Well, I think it's time to try and use some of that originally-envisioned Hoosier Cabinet material in this build. How bad is it? Well, it's not 3/4", not flat, and not… well… attractive.
Off to the lunchbox planer. Yeah, I know. Totally out of my character. But you know what? A fellah has got to know his limits and messing with this crappy stuff is my limit. That, and the fact that the planer blades are ready for replacement anyway says it's a can't lose to work this stuff over with an electron-driven fury before taking it inside.
First clamped each to the bench to get a solid, jointed edge on the oak…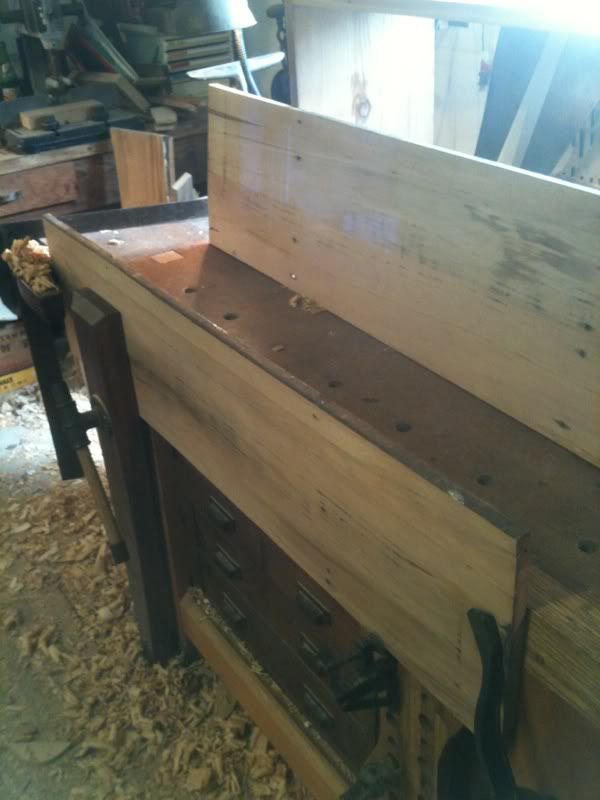 Cut the pieces to length and width:
Using old meant dealing with a challenge, of course. The first picture below is the crappy finish from the planer that gets smoothed 'off camera' later. Then there were dados in the material from the Hoosier days that I had to work into the new build. Fortunately I could create the three drawer look without compromise.
Another set of dado cuts was needed, giving me an excuse to use the combo backsaw. With a bit of trial and error I was able to set a 'fence' in place and set depth of the blade inside the adjustable back. A couple of blocks cut from other donor material gave me the verticals for this drawer assy.
I'll spare all the pain of seeing all the dado cuts required to set this bank of drawers into the carcase; that's what's next. From there it's construction of the backpanel, or whatever gets to be the back of this build. Then the front frame, panel doors, setting the tambor, etc. etc. Wow, am I halfway yet? Doesn't look like it.
Thanks for looking!
-- Don't anthropomorphize your handplanes. They hate it when you do that. -- OldTools Archive --
---