Q: What do you call a drawer that doesn't open?
A: Rework.
Okay, lame joke but it's a decent intro to the challenge of finding drawer pulls for this Roubo Cabinet of mine. Design constraints? Not many, but they're important ones.
1. Stout enough to work on drawers full of tools (potentially heavy)
2. Aesthetically in sync with the cabinet (I'll know it when I see it)
3. Hardware can't stick out / interfere with the sliding deadman
First thing I thought of were those wildly understated (but cool looking) round pulls; you know, the kind that seem to be inside tool chests these days. A close second was round porcelain knobs. Other choices included recessed bail pulls, regular handle pulls and plain old wooden knobs. I'm sure I have the names for all of these things wrong, but that's part of the dilemma. I can't get what I can't describe.
I do have wooden pulls scavenged over the past several years, but they're oak and I'd rather not introduce a new type of wood (FAIL, Point 2). I found brass pulls at a flea market and bought the pair, but then figured consistency was important (FAIL, Point 2). Then I bought (for $2) a pair of small porcelain pulls and matched them up with recessed pulls my dad had on hand. Ah, a possibility here!

A big dislike was the uber-shininess of the recessed pulls (FAIL, Point 2). Who wants chrome on their bench? Not me. So I tried to 'stress' them. First I heated them up with a torch. No go. Then soaked the lot of them in white vinegar for a week. Still shiny. Then I tried sandblasting them, just so they wouldn't shine so darned much. Well, when I did that, the pull portion of the hardware came free from the backs way too easily. Damaged goods, not durable… (FAIL, Points 1 and 2). Urg.
On to the catalogs. Most diverse collection of pulls was in the Van Dyke's on line store, and here's what I settled on: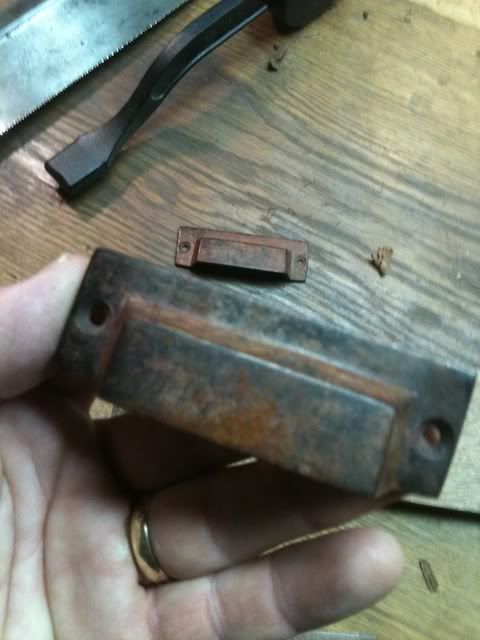 Seeing the range of prices for pulls and other assorted hardware was a real eye opener. What I got was modest compared to what was out there, let me tell you. Of course, for those who may read this that are 'in the business' of building custom cabinetry, I'm not telling you anything you didn't already know.
To mount the pulls on the Gang of Four only meant to keep them vertically aligned. Found the center of the Small Pair to set the positions there for each pull, then lined up the ones for the Big Pair and all was good.
Measurements were set and repeated with combination square and large-ish divider…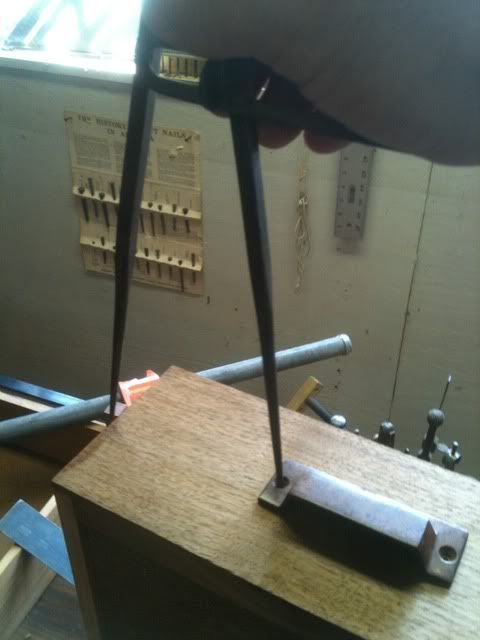 and squares only on the Big Drawer: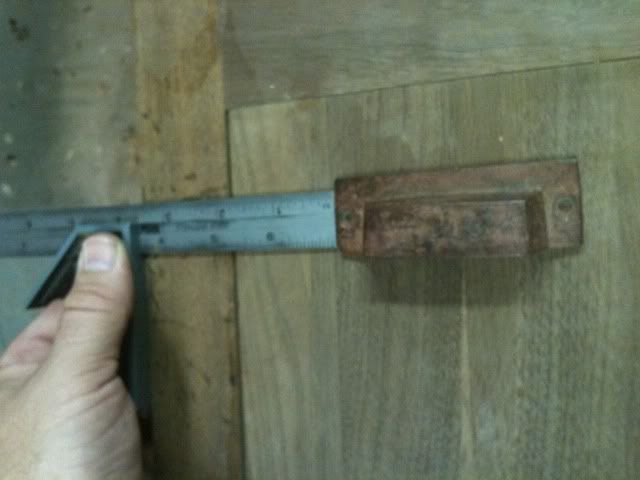 From that point, used a center punch tool to mark screw locations on each drawer face. Wood screws (Slotted! Yay!) sent with the pulls were stressed to match, but were too long. The bench grinder fixed that, though. Punch, Drill and Drive, I say!!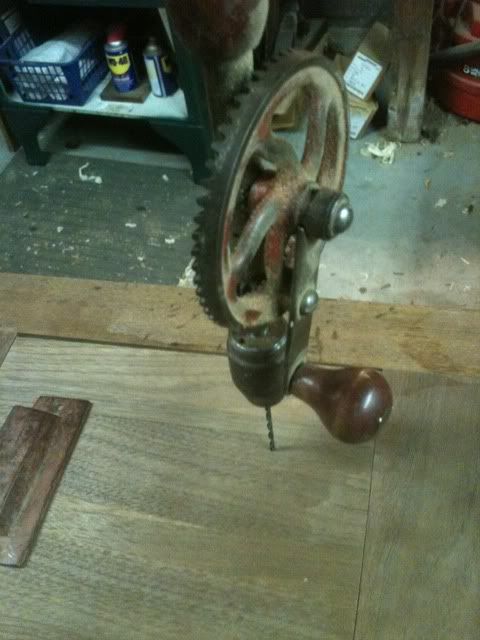 So where are we now with the cabinet?
I owe you an entry on drawer assembly that will recap what's been done AND include what will be done to finish the Small Pair, but with hardware installed on 60% of the project, this is the cabinet today: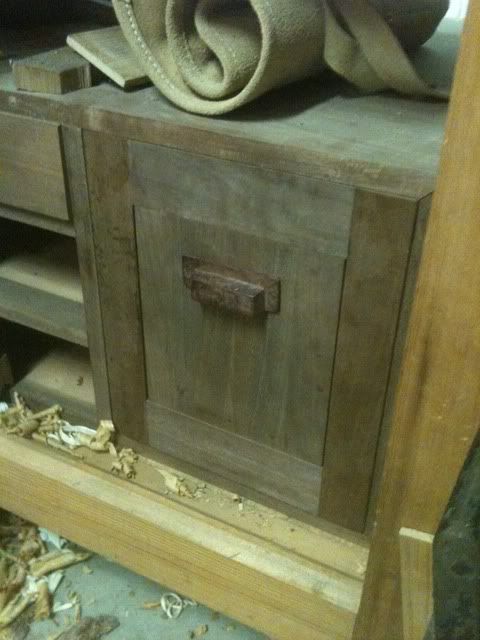 Three more posts and this epic project will be complete and I'll (finally!) be able to load it up with tools. Oh, how nice that will be! As always, thanks for reading.
-- Don't anthropomorphize your handplanes. They hate it when you do that. -- OldTools Archive --
---