The material for four of the drawer fronts had been identified and set aside when the dimensions of each drawer were pretty much set. Each of those came from the aprons of the donor table, looked quite scruffy, but cleaned up well on the face side. I did have to do some filler work on the insides of these pieces because of how they were 'purposed' on the Donor Table, specifically I cut blocks out of scrap walnut to fill cavities towards the bottom of each of two drawers so my drawer bottoms would have solid material to run through around the entire drawer. Didn't have to do a necessarily pretty job, so I didn't… I save extra effort for show sides / don't mind building in 'character' for others to find and ponder over in the way off future… And while patching up boards for use seems already like a pain in the arse, it's what must be done sometimes when used stuff is re-used.
Two pics of Operation #1 – rough fitting then trimmed up: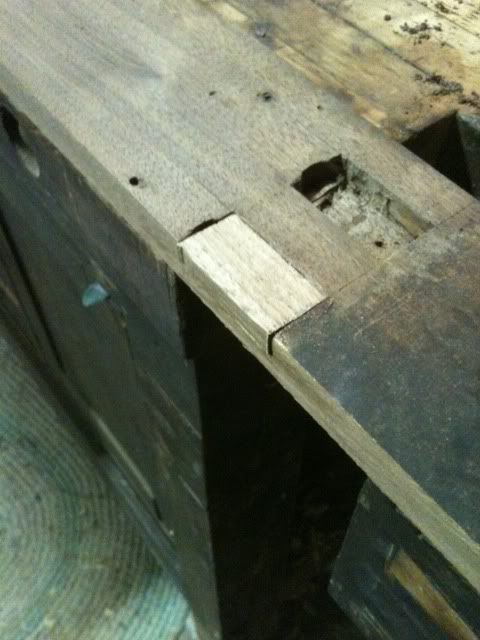 And two of Operation #2, same thing only repeated:

Of course, it's obvious that there's nothing set aside for The Big Drawer, the right-most opening, and there are a couple of reasons for that. First and foremost, the Donor Table is gone / used up / totally consumed and there's no solid material left for a larger drawer front. I have scavenged enough for a frame, though. Second, a solid wood front of that size probably wouldn't be a good idea anyway; too much stress / likely to crack over time or, even worse, warp and not fit square or flush. So it has to be a frame and panel job, and material is needed for the panel / insert.
Tried my hand at re-sawing some walnut scrap not big enough for frame material; etched a starter line at the table saw and then went at it with the bandsaw. That didn't work. Then free-hand, and that didn't work either. Face it, I suck at re-sawing; it's something that I need to improve on / buy the proper blade for, definitely, but not in the face of necessity. I need to keep viewing the posts of LJers that do this well, and learn more.
If push comes to shove, I can thickness easily with handplanes on a job this small, and pretty quickly too, so that's an option. Wouldn't run shorts like this through planer; that'd be silly. Looking at the inside of the door on the Traditional Bench in the shop, the floating panel is flush with the frame (it's recessed on the public side). I've seen that before, but in context of my Big Drawer problem it's something I'd like on the show side of the drawer, I think. Beefier material to mount a pull to and it means no more thicknessing of material down to less than 1/2". Ahh, working around our limitations is a very good thing sometimes! Grin! Thicker material means I can use the #48 to create the tongue that allows the face to ride flush with the front, if you know what I mean… Coming together!
I mentally put these issues aside and worked other things with the cabinet, specifically blog entries #s 4 through #11. I did plane up the faces of the drawer fronts I had and cut them to rough size at one point, likely to get them out of the way. Here's a pick of the first four drawer fronts just sticking into the cabinet (as seen in the Most Previous Episode of this Blog Series):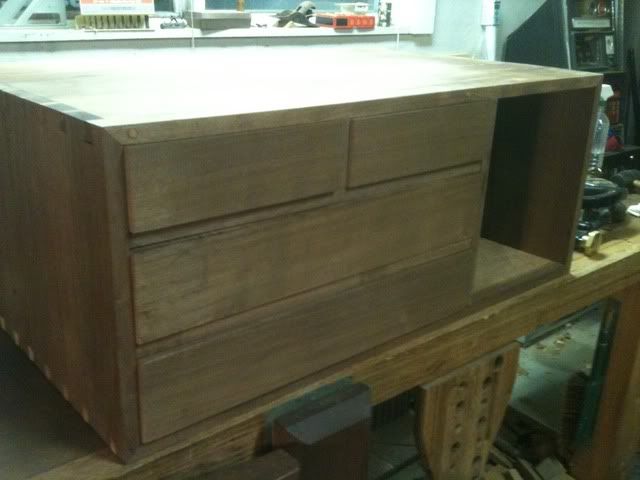 UPDATE: The Big Drawer is to the right in the above pic.
Once all other progress had come to a stand-still, pending drawer fronts, it was time to address The Big Drawer problem. The good news is, things fell in place. How? Long story short, I collect my cut-offs and send them over to a buddy who uses his back-yard fire pit a lot. He gets good, dry wood and I like that someone gets one last benefit out of the stuff I'm (finally) able to part with as unusable. Well, in doing cleanup for a fire pit re-stock I ran across a couple of long, narrow pieces of walnut left over from the panel cutting exercise that could be cross cut and glued up to panel size. Huzzah! Game on!
I laid out the frame pieces I'd already set aside, jointed them and did the now-familiar T&G work. The first picture below shows a nice groove worked into one of the rails. The second was taken while cutting a short tongue, and clearly shows how you know your #48 needs re-honing.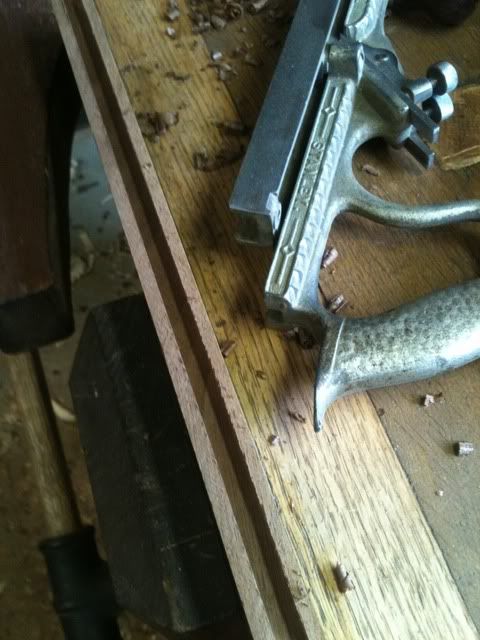 So after some sharpening action on both #48 cutters, I was able to complete the frame without much effort at all; you've seen frame work on the backpanel anyway. So, it was on to the actual inset panel. And Oh, such a Wee Little Panel it seemed to be, having worked on the cabinet panels earlier in the project. Jointed the edges, glued them up,

and clamped everything .

With the glue dry and clamps removed, I smoothed the face 'real nice.'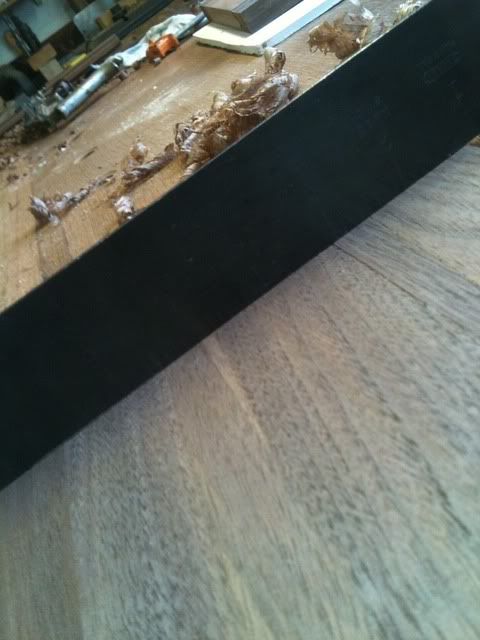 Once it was sized up (and yes, this went without problem on all four sides this time, unlike the debacle w/ the floating backpanel) I used the still-freshly-sharpened tongue and groove plane (sharp = good) to ready it for fitting.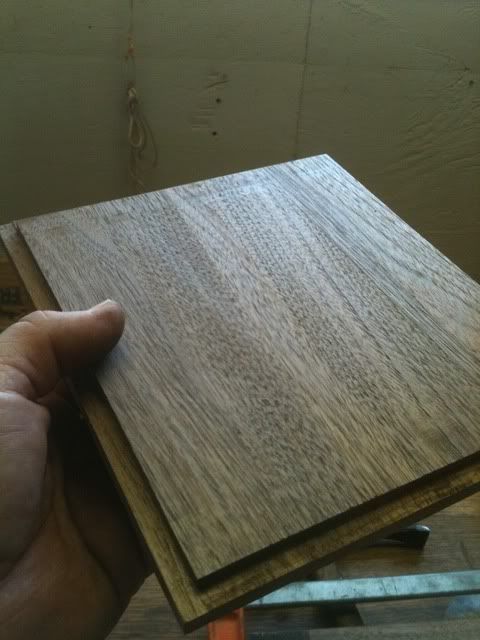 The frame was dbl-checked for square, floating panel put in place, then glued up and clamped.

After the glue up and cure times had passed, I dressed the frame a bit. Looking good!

How 'bout a picture of the backside? Sure can tell how this thing came to be!

And the cabinet, under the bench, with drawer fronts set in place, ready for half-blind dovetails for the sides!

As always, thanks for looking!
-- Don't anthropomorphize your handplanes. They hate it when you do that. -- OldTools Archive --
---