You've heard of spot welding, as applies to metal? Well, the partitions in this cabinet are spot-glued, specifically with a brushed-out dab of glue at the leading edges of each. That should allow for movement with the seasons without cracking.
The partitions ride in matched dadoes that must be lined up right and drawn tight between four large panels that are glued at the dovetailed corners. Oh, and the back panel floats completely in grooves in the side panels with a 'button dowel' at top and bottom. (Sorry, no pictures of the hidden dowel trick, but I did it in the centers of the top and bottom rails to add lateral (?) strength. It took about 15 minutes to add them.
Spreading glue, holding pieces and placing clamps was all I had to do. Geez, the most stress I've felt in the shop in some time. And, wouldn't you know it, there aren't many pictures of actual glue! But what I have, I'll share. Besides that, glue you've seen! How about something you maybe haven't tried? To pull the dovetail joints together, I used what Robert Wearing would refer to as 'cramps;' I made them to match up with the dovetails using a 1" (I think) Forstner bit at the drill press.
Marking the cramps: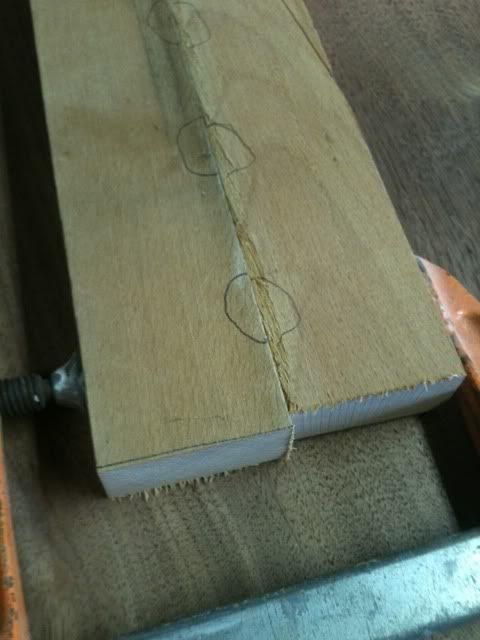 Drilled and ready to apply: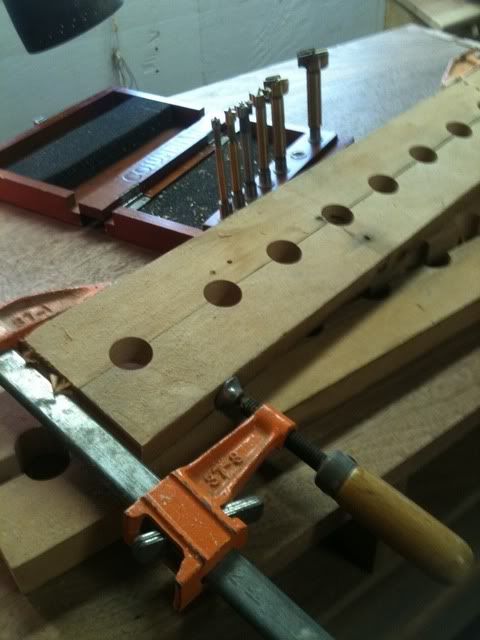 One trick that I did before glue up also came from Wearing, more specifically an illustration in The Essential Woodworker. It showed slight bevels being planed against proud dovetails and pins to prevent blowout when smoothing the assembled carcase. I've (unfortunately) hit that end-grain blow out many times, so hopefully this does the trick. So I struck a line alongside the proud tails and marked the tops as being candidates for said beveling.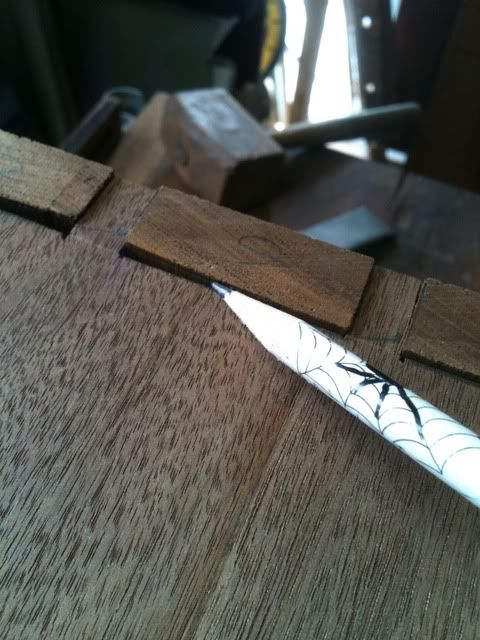 When the carcase was apart, the lines were clear!

So I knocked off edges to a half dozen or so marks, then was ready for glue up!

All there is of glue actually being applied is a single shot of the first partition getting hit.

Then adrenaline kicked in, the camera went bye-bye and the scramble to clamp within glue working time took place. I had my #3 son help me with the clamps. So, here it is after the whirlwind, moving from bottom to top then with all clamps!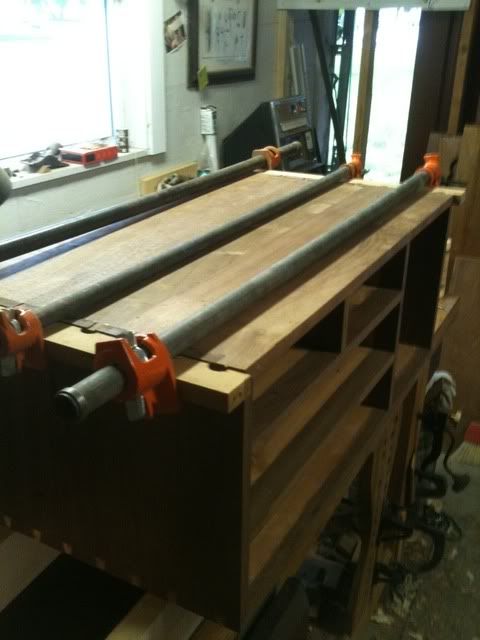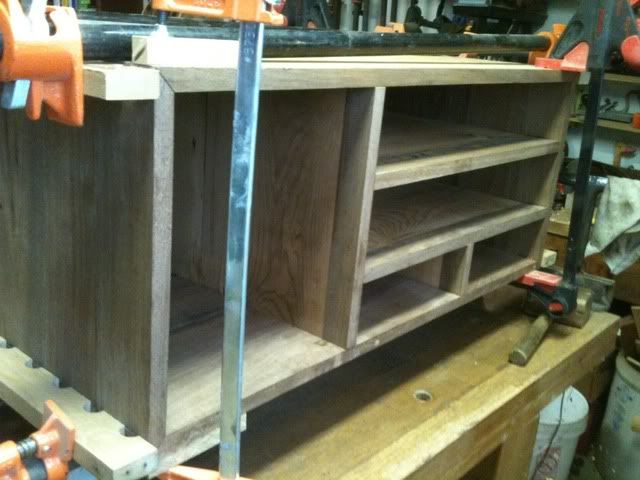 How'd the mitered corners look? Not bad. Here's one of them:

Once all was dry and all ten clamps were removed, I was anxious to dress the top of the carcase, where the beveling had been done. Here's the cabinet braced up against the bench, ready for work.

Applied mineral spirits and went to work. The contrasts are magnified by the mineral spirits, but the results were great!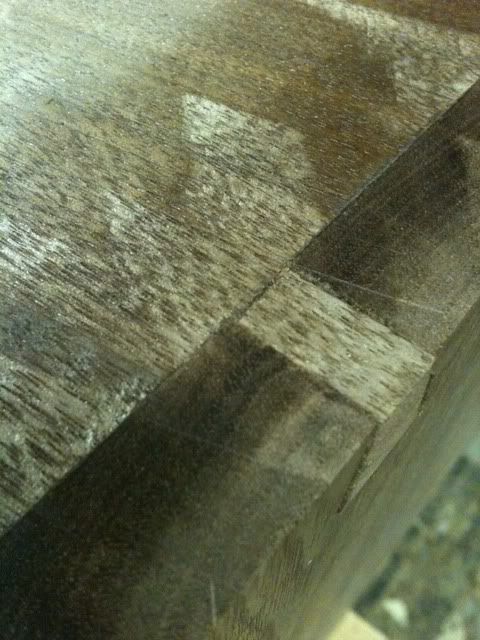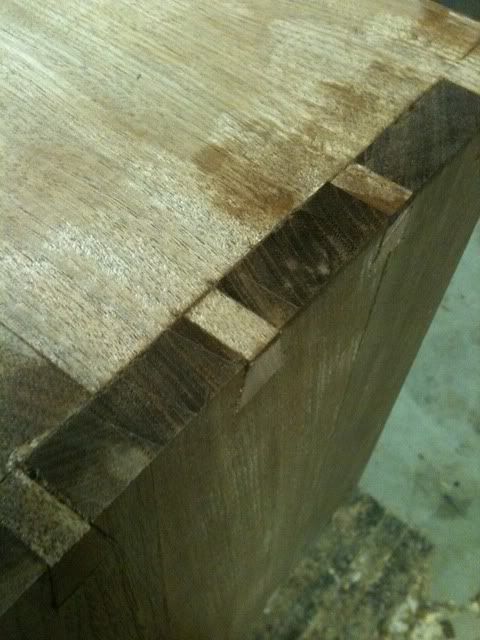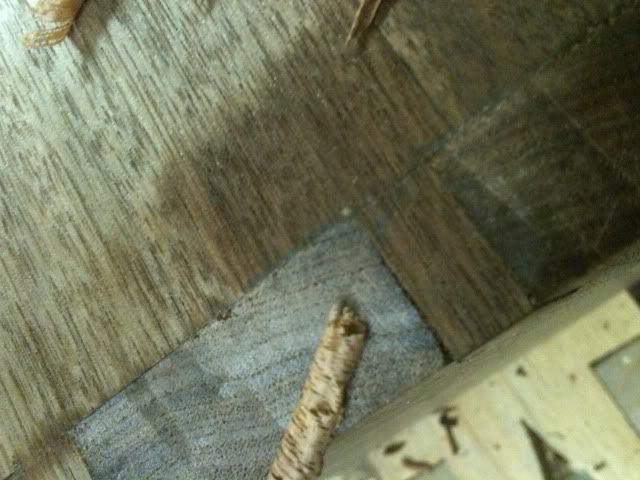 And, getting ahead of myself just slightly, here's a shot of the carcase on top of the bench, all glued up, with drawer fronts sticking in their respective openings.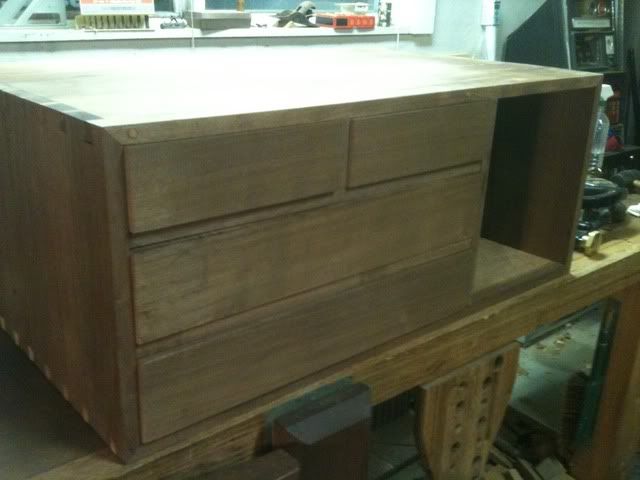 Cabinet is in final form, but looks kinda boring, don't you think? Now I'm thinking of hardware and final finish. Oh, and those pesky drawers aren't actually built…
-- Don't anthropomorphize your handplanes. They hate it when you do that. -- OldTools Archive --
---