I've got a carcase that needs to be divided into sections to house five drawers for hand tools at the Roubo. As is usually the case with my shop work, there are more efficient ways to put drawers in cabinets than the methods I've chosen. Part of the answer to that is this Cabinet will be matched up to a bench that, as a pair of shop tools, will be productive way beyond my time with both of them. The balance falls into the mantra 'practice with a purpose.' I build things for the shop using tools and joinery I'd like to use in the future on heirloom furniture for my kids. Heady stuff, right? So enough of that – on to the Update!
The first pair of dados will carry the main vertical partition; the one that defines and separates The Large Drawer from the three rows of drawers elsewhere on the cabinet's face. And the first dado was cut by clamping down a stop across the top panel and cutting a pair of boundary lines with my 14" tenon saw for routing. A little cutting w/ a chisel, then the Stanley "Old Woman's Tooth" kicked in.
That experience, ie: clamping and cutting alongside a stop to an imprecise depth, didn't excite me much; that I had to chop alongside the saw lines was too much work and I used that method exactly one time. From that point it was 'strike a deep line w/ an Exacto knife, then chop (deepen) those etched lines with a chisel.' If I had the right sized #39 skew-angle dado plane, with sharp cutter and spurs, that'd be the dandy tool to use here. But, I don't. sigh
Either way, with a depth that defined a nice track for the Stanley #71 router, there was a method for cutting all of the dado cuts needed in the cabinet (eight of them for those keeping score at home). The first picture shows the chopping being done w/ a vintage Everlasting; I did that to see if I missed the feel of hitting steel vs. the wood on wood of the 750 socket chisels. Wood won…
And a couple more routing pictures, with nice clean dados! Process was pretty successful after several rounds of it.

On the router, tried the v-blade first but went with the 3/8" (or 1/2"?) square blade after some fine honing on the 1200 diamond stone. With both dados cut (top and bottom panels), I re-assembled the carcase to mark and then cut a piece of partition panel to length and checked it for square.

Slid panel into carcase, and fit was snug (but not too much so). With partition in place, time to mark it at the top and bottom for a stopped (stepped) cut with an Exacto knife.

To cut each of these "step cuts" at either end of all four partitions, follow the pics below. With the face of the to-length partition etched, I clamped the partition into the bench for easy edge work

and chiseled (flicked, actually) the waste so the gents dovetail saw would have a nice edge to follow.

Depth was marked w/ the 6" combination square,

and cuts were made.

First panel / partition in, with pics of 'step cuts' revealed at the top and bottom.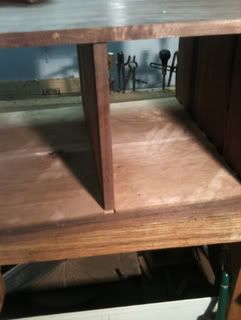 Left-hand side panel needed a couple of dado cuts to handle the three rows of drawers (same as the new vertical partition). So I marked it,

scored the lines,

set those lines a little deeper with chisel and then did the router thing.

I did have a couple of partitions that were too tight for my liking (very hard to slide in and out – I was afraid they'd split!). I used a block plane and some wax to ease things along. Note that I didn't apply wax to the front ends of any of the panels; the intent is to apply glue at these (dado-housed) leading ends to keep the partitions in place while allowing the rest of the panel to float (expand / contract) over time, uninhibited.

And now, once again, it's time to leverage the power of the web and move this project forward at a rate that simply doesn't convey the amount of effort required to actually get stuff done.
Each partition was cut to length, notched and fitted into a carcase that was 'rough clamped' to ensure sizing would indeed fit within the dimensions of a cabinet that is glued up and clamped tight. Yes, it was a bear doing all the inserts and re-inserts, but the end result is worth all of the effort.

The last pic in this chapter shows the in-work cabinet set on top of the bench that will house it when all is said and done. Note all of the clutter underneath… Ah, I can't wait to get that space moved into the Productive column. Soon, I hope.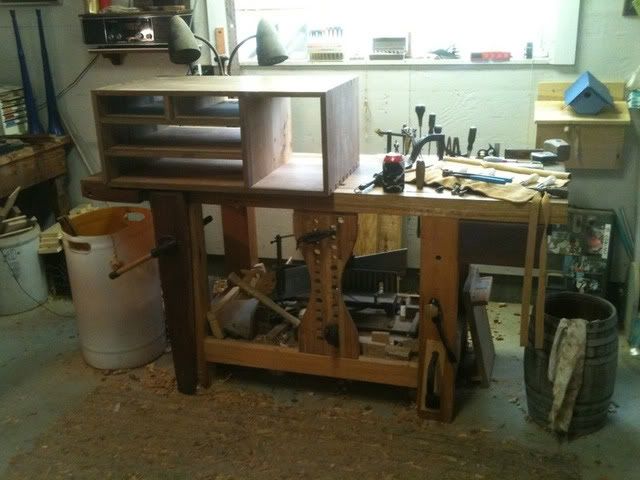 Next steps include fabricating a back panel as well as a frame and panel drawer front for The Big Drawer, and these will be unique challenges. Material selection is now a critical issue in that the donor table has little to offer in the way of quality pieces to be re-purposed. Especially for the back panel. I don't want to depart from the walnut theme of this piece, so I'll have to scrounge the woodpile for decent (not prime) material good for nothing but the back of a carcase. Additionally, I'd like the back panel to be floating; no metal fasteners (nails, brads, screws, etc) at all. Not that I intend to drag this thing through airport screening, but I want it so that if I wanted to… The mitered dovetails should enable me to cut a fully hidden dado if I want to go with a tongue and groove fit, but man that certainly complicates glue-up because the panel will have to be in place while the sides are drawn in tight at the dovetails. Yuck. With glue that is drying in place. Double Yuck. And the Big Drawer front will have a pull on its face, so it can't be a thin panel. Triple Yuck! Oh, isn't it fun to design on the fly? Make no mistake, it may seem like this is all thought out, but it's an illusion. If I waited for all planning to be complete before cutting wood, nothing would get done. That would equal No Fun…
Thanks for reading!
EDIT: I have a combination of flickr and photo(scum)bucket images in this post. This will be addressed soon. Smitty
-- Don't anthropomorphize your handplanes. They hate it when you do that. -- OldTools Archive --
---