I mentioned a few days ago about the flooded basment becuase of a frozen water pipe. Things are getting back to normal. We have heat (new furnace) and are slowly digging out from the mountains of stuff piled throughout the house.
The basement has dried out nicely. They put in some massive blowers and dehumidifiers and there isn't any wet spots left in the entire place. Quite a difference from arriving home last Sunday to fiind this mess: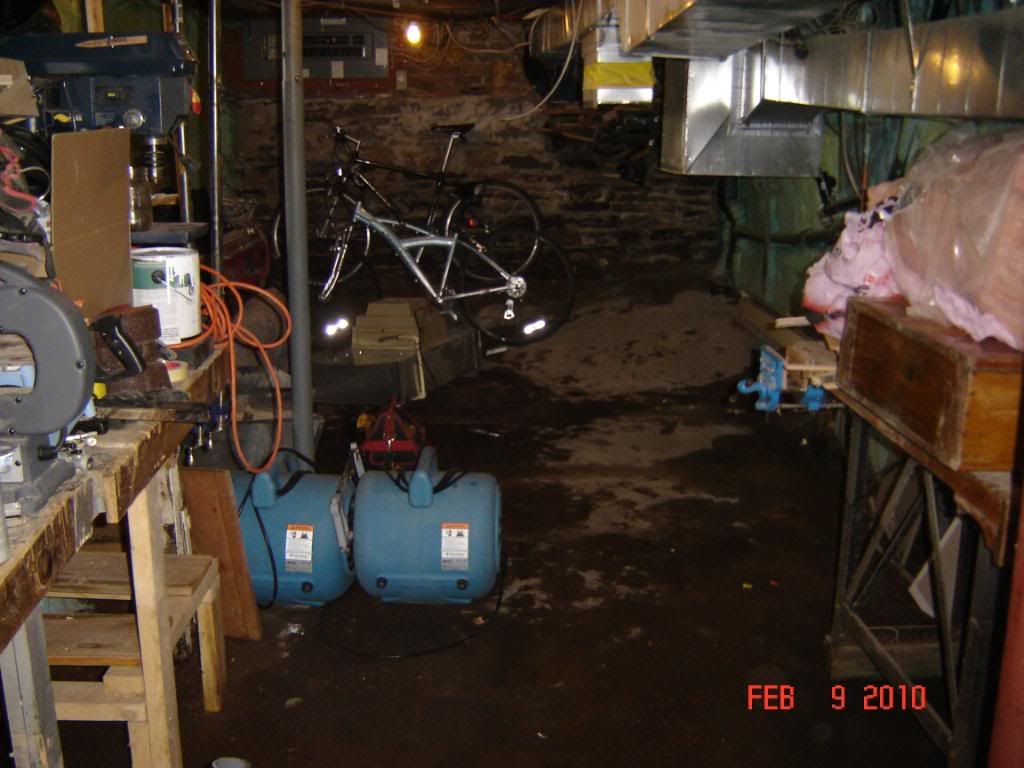 Tuesday: This is the emptiest its ever been
On Tuesday they took pretty much every electrical device we had in the basment to get "inspected". On top of my tools there was some older dehumidifiers, fan, radio…..just random basment stuff that we weren't using anymore. Should note that our insurance company brought in a middle man to do the repair work and document the damage to submit the claim.
Well heard back from them yesterday and the insurance compnay told them to have everything disposed of… They didn't want to take the time to test anything. So the next question, "Do you want any of your stuff back?" .....I didn't want to be stuck with a house full of tools that didin't work but what are the odds some of the tools would still be ok…..If I took them back even though they were going to claim them would I be guilty of insurance fraud…..in the end I decided to get a few things brought back so I could scavenge some blades, bits and fences off of them. Still not clear on how insurance will valuate everything….I mean you can spend $30 or $130 on a hand drill that would essentially have the same description…..
It all seems pretty wasteful to just throw everything out. I hope they go to a repair place somewhere instead of a landfill. Ive had a few things fall in water before and for the most part if you leave them off and let them dry they fire right back up. I guess its hard to say if they would have a shortened life now which is why insurance wont bother.
Here is a shot of my router table….you can see the water line on it. It was stored about 12 inches off the ground in case we ever had a flood. (My definition of a flood has now changed)
---