After reading many favorable reviews of the Ridgid oscillating sander (model # EB44242) and with a 15% rebate offered by the manufacturer, I finally bought this sander as my Christmas present. The more I use it the more I like the sander. I would have given it a 5 star rating if it has better dust collection capability when the belt sander is used. The dust just got collected at the end of the belt and landed all over the floor. I thought there must be a better way to collect the dust. Here is the dust collection improvement that I made.
The picture below shows my prototype dust hood attached at the end of the belt.

Here is a link to the video on how well the prototype dust hood works
http://s667.photobucket.com/albums/vv38/SimonSKL/?action=view&current=003-7.flv
I want to attach some kind of hood at the end of the belt to capture the sanding dust but I don't want to drill any new holes on the machine to do that. The work rest provides me with the solution.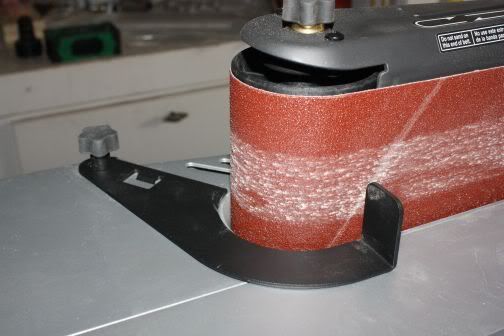 I use the work rest as a template and made a working template out of 1/4" plywood. I rough cut the acrylic sheets (1/4" for the bottom panel and 1/8" for the top panel) to size on my bandsaw and then used carpet tape to tape all 3 pieces together.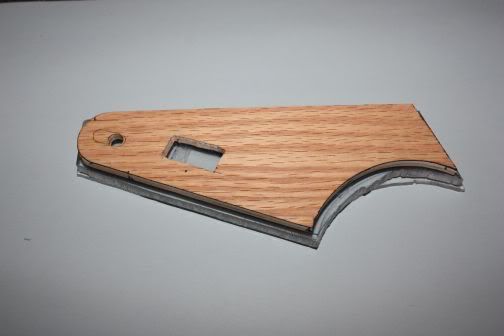 Using my pattern router bit I cut the bottom and top panel to their final shape.

I then cut the 3 side panels to size and glue them together into two components. The front side panel has a 20 degree bevel cut.

BTW, this is the acrylic solvent or glue that I use. I bought this for about $6 from a local acrylic shop.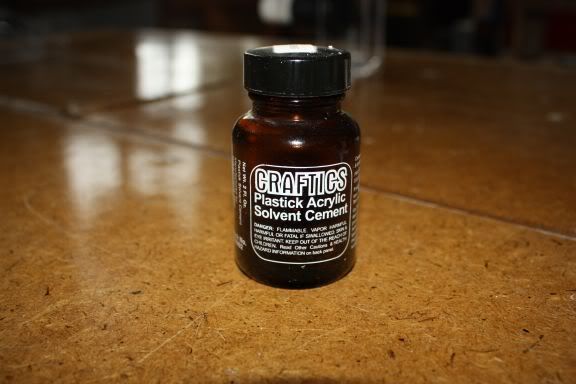 I use an aquarium 1" bulkhead (slip-slip) as the dust port as the largest hole that I could drill into the back side panel was 1 3/4". After the bulkhead was installed the two components are glued together.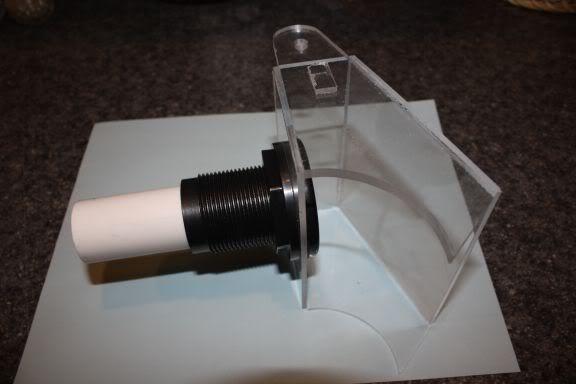 To keep the dust hood from rotating into the sanding belt, I glued a small piece of acrylic on the bottom panel to act as a stop which fits right into the rectangular opening of the work rest.

This picture shows how I attached the 1 1/4" vacuum hose to both the dust hood and the original dust port.

I have made a few of these dust hoods and still have 4 left. If anyone is interested in getting one from me please PM me.
Thanks for looking!
-- Simon, Danville, IL
---