My sister-in-law loves birds and has several lovebirds. After visiting a relative in a nursing home recently she came home raving about the beautiful aviaries they had at the facility. Well, she is set to graduate from her PhD program soon and I thought that this would make a lovely gift.
I have gotten started on the bottom case and discovered that I wanted to share this so I apologize that that part is not documented. In keeping with The Wood Whisperer's recent "design on the fly" end table series, I thought I would put up this blog detailing that same process as I really only have vague images in my head as to what the finished product will look like and I am hoping the LJ community might help me focus those images.
My sister-in-law loves asian design so I have decided to do a black lacquer finish on this so I chose inexpensive poplar to make this. Plus I got a great deal on some returned cabriole legs at Lowes (of all the places!) and that is what got me started down the Queen Anne style. I'm all about fusion, so why not an Asian finish on Q.A. style?
The lower case is all mortise and tenon joinery and I had to use a lot of shims to secure the preformed legs to my mortiser bed, but it can be done. I built the drawer runners using pocket screws and will attach the top to the case with the same because that will all be hidden joinery. Take a look at the first dry fit: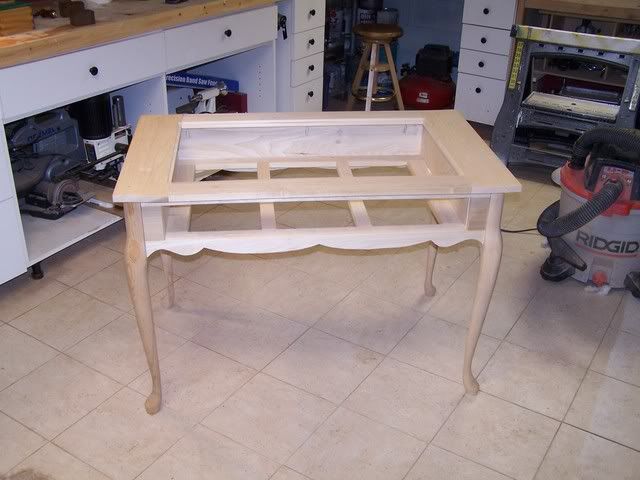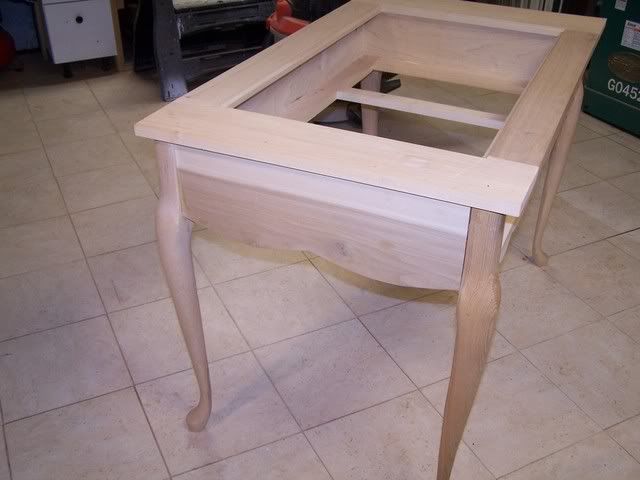 I designed the scalloped edges using my french curve and by looking at some Google image examples. I built a small template out of plywood and flush trimmed the final pieces with a router.
I intend to build the top case with frame and panel construction with the front and back panels made from glass or acrylic (open to suggestions here) and the side panel made from PVC coated wire mesh that is pretty common with animal cages. The sides will have inset doors with locks so that she can let the birds out to play.
Obtaining some of this wire mesh is going to be my next step and possibly biggest stumbling block because I am having trouble finding it in small rolls. The 250 foot rolls I have seen are $300 + and ebay only has weird colored rolls. I am looking for black. I need to get some of this stuff so I can know the size of the grooves for the frame and panel set up as well as to get an idea of it's properties and possible pitfalls.
The drawer in the front will pull out to allow cleaning as the bottom of the upper case will be open and you can see that it will rest into the rabbet on the top. I also think that having these two parts separate will make it easier to transport down to VA to give it to her. I figure a small molding set at the height of the top of the rabbet will conceal the edge nicely once the two cases are put together.
So that is where I am on my first blog. I am interested to hear some thoughts and definately some ideas on glass or acrylic and sources for PVC wire mesh. Has anyone ever made one of these and what were your experiences? What to do about the top? Crown molding, add in a light, etc. Also, I need to think about ways to secure perches and food dishes as well. I can't wait to hear some ideas.
Shannon
-- The Hand Tool School is Open for Business! Check out my blog and podcast "The Renaissance Woodworker" at www.renaissancewoodworker.com
---