OK, here's my first installment on my LJ's blog. Since there is much involved in the construction of a boat, and I have about 400 photos, I'll try to show to my best ability, the most major stages of construction. We built 2 Davis boats over the past 6 months, one 14' and one 16'. The boat shown here is the 14'. Prior to physically building the boat came the lofting full size on the floor. Alright, let's get started, so sit back, relax, and enjoy the show.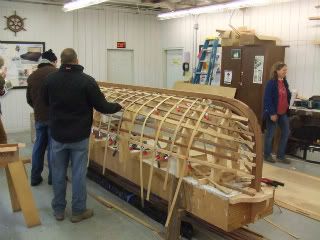 Here we've built a strong back, set up the molds, placed the ribands and are lining out the frames spacing.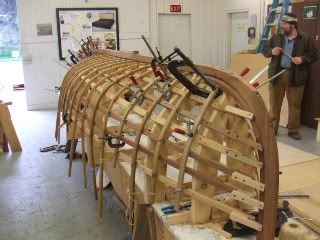 Once we liked the frames spacing we worked out, we began to frame the boat. Frames came right from the steam box and were bent onto the boat, clamped and let sit to cool.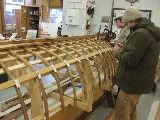 At this stage all frames are on the boat, we've lined out the planks on the frames and are spiling the first plank.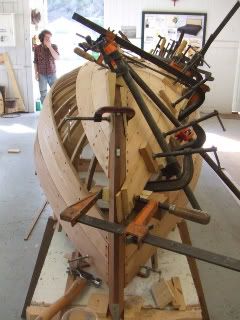 Most of the planks are on at this stage, she's looking like a boat now. Has anyone got clamp?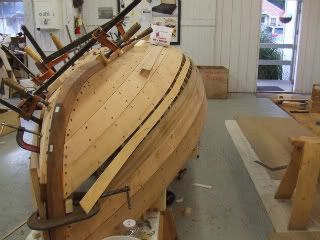 Here we're set up to spile the last plank. This plank above all has to be hewn carefully, it's a friction fit when placed on the boat, so all measuring and bevels have to be dead on.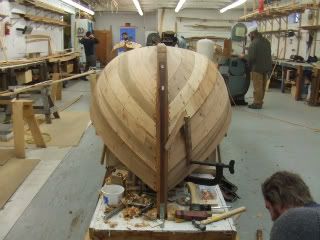 And here she is all planked up, you can see the shutter plank on the right side of the boat. It is still standing proud before hand planing. Notice only one clamp, the rest of the plank is held on by friction.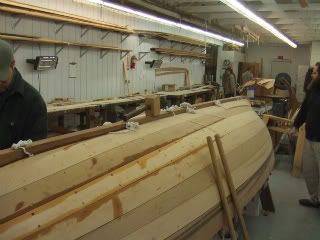 All the planks are on the boat, and have been faired. Now comes caulking the plank seams. We're using cotton for this. The wet is from linseed oil, used to lubricate the seam for ease of caulking.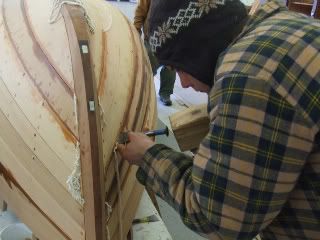 Here's a student laying caulk into a plank seam.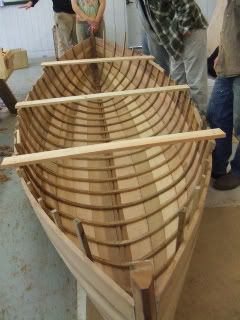 Look at that! Right side up. All the seams have been caulked and the hull has been faired. Now we get to see what she really looks like.

The boat has been set on its lines, plumbed and leveled. We're now ready to work on the interior.
Alright, we've made some headway here today, that was some fast boat building! I hope you enjoyed this first installment of my most recent project. In the next installment we'll work on the interior of the boat. Now, go make some saw dust!
-- Brian S. --- "If you've worked on the building of a boat, it belongs to you the rest of your life." -Bob Prothero
---