I received my new Veritas #5 1/4 Bench plane from Lee Valley on Wednesday and as usual I'm very happy with the quality and service that I received from Lee Valley. I decided I really needed to invest in a decent workbench to use with hand tools. (My Festool MFTs just don't have enough weight and stability to them for hand tool use.) So I decided to get the smallest bench from Sjoberg, its not really that heavy, but I fixed this problem by bolting it to the concrete floor with 7" bolts! (I don't think it will move!)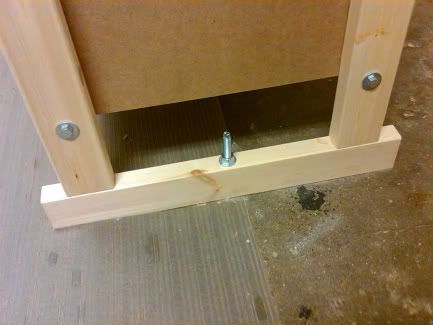 The first thing to do this weekend after getting the new bench built and set up was to get the new plane blade sharp and ready to go. I use the scary sharp method with sheets of sandpaper mounted to 1/4 glass, held to strips of MDF with a Veritas MK2 honing guide. I have water stones, as well as the Work Sharp machine, but so far I get the best results using this method. Its easy, no mess, dead flat, and inexpensive.
So now with the new bench all set up and the plane blade sharp it was time to fix those doors. As I said in the last blog entry, something caused them to get just a tad out of square. I start by marking a pencil line that shows the material that needs removed.
I clamp the door in the vise, and clamp a scrap piece to the end to prevent tear out on the cross grain.
A few swipes with the plane and the doors are brought into square.
Next, I drill the holes in the ends of the doors that will receive the dowel that rides in the groove in the sides. I use a dowel jig, and just line it up on a mark 9/16 from the top of the door.
The front top edge, and the lower inside edge of the doors has to be rounded over a little so that they don't rub when they operate. This is done using a 1/2 radius bit raised 3/8 high, I mount the door to a 1/4 piece of MDF to add stability during the routing.
I use a jig to mark the locations for the dowels in the sides. I use a dowel jig clamped to the side to make sure that the holes are 90 degrees to the face. (This step was supposed to be done prior to assembly, but I forgot, normally I would do it on the drill press.)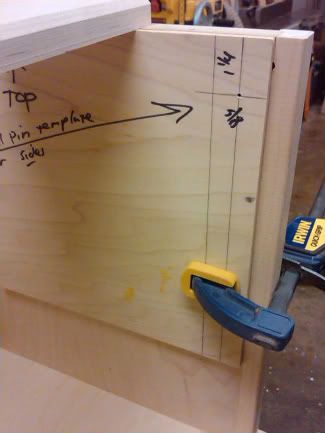 The back stiffener is removed to load the doors from the rear.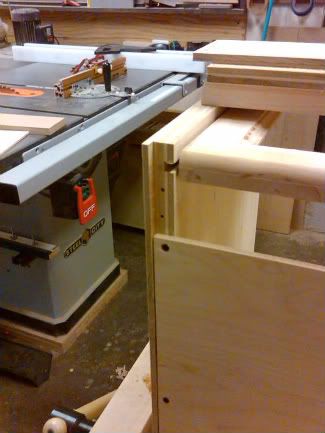 Thanks for reading! Next weekend I'll start on the top.
-- Craig, Springfield Ohio
---