Building will resume on the maple barristers this weekend and I should post on the progress sometime Sunday afternoon, but I've been thinking this week about how I should approach the doors.
I have three potential joinery options that I've decided to consider, they each have their own strengths and weaknesses. I'd like to show them here and summarize what I see as their pros and cons, and I'd value any feedback or suggestions from you as well. So let me here from you.
I've used each of these options before on different barrister sets so I have pics of each.
Option 1: Cope and Stick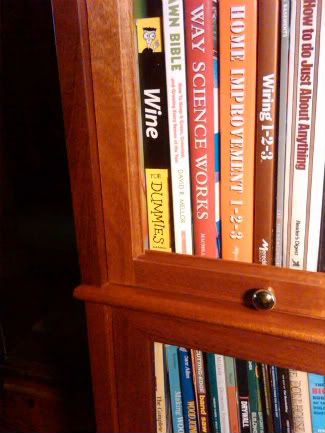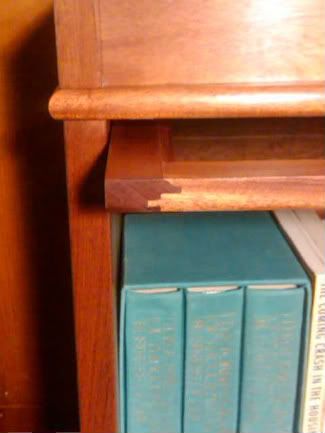 Cope and Stick pros:
Aesthetically this one is my first choice, I just think it looks the nicest. I also like how the glass is held in with a rubber spline that makes replacement, if necessary, very easy. I like the way the joinery looks when viewed from its edge, and I also dropped almost $200 on the router bit set and would like to get as much use out of it as possible!
Cope and Stick cons:
Its a weak joint, with not a whole lot of glue surface area, and a tiny, almost worthless tenon. In order to increase the surface area for the glue, I think its wise and necessary to increase the width of the rails and stiles a bit, (which I don't really want to do because I like the look of the thin rails and stiles that the bridle joint makes possible). I want these doors to last for generations, and I'm just not certain that this joint is up to the challenge. I'd like to hear your thoughts. Is modern PVA glue more than strong enough to handle this joint for a very long time?
Option 2: Miter (reinforced with a domino or a spline)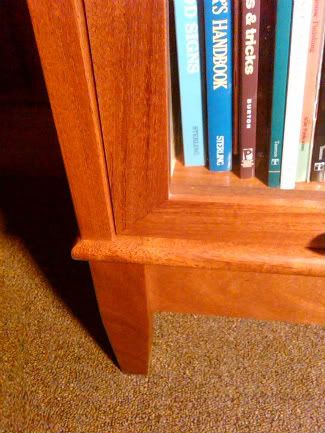 Miter pros:
A clean continuous look, and very easy to make.
Miter cons:
The weakest of the three choices, (despite what a recent FWW article recently stated) and it also has the very real possibility of the miter joint opening up worse than the others as it ages, and causing a very noticeable gap. It also has no interest at all when viewed from its edge since there is no joinery to see. This one also needs the widest rail and stile to make room for the diagonal domino loose tenon. (A spline would work, but the pin that needs to go into the side of the door would be right where the spline is.)
Option 3: The Bridle joint.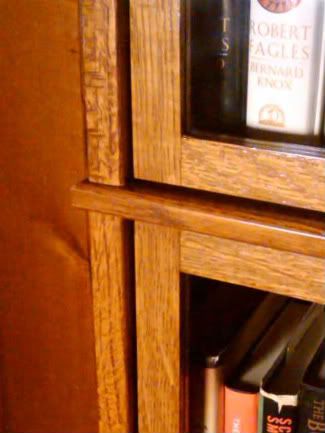 Bridle Pros:
The largest surface area for the glue of the three, probably the strongest, longest lasting choice. It has a nice edge view, and allows for the thinnest rails and stiles.
Bridle Cons:
Very plain and uninteresting when viewed straight on. Uses quarter round strips tacked in to hold the glass in, making replacement if necessary, a pain in the butt.
So, I value your wisdom and comments on this matter! Is anything I stated incorrect? Please send me your comments and suggestions!
-- Craig, Springfield Ohio
---