YES!! I won both eBay auctions for the Stanley No. 7 and No. 8 jointer planes. Here are the photos of these bad boys!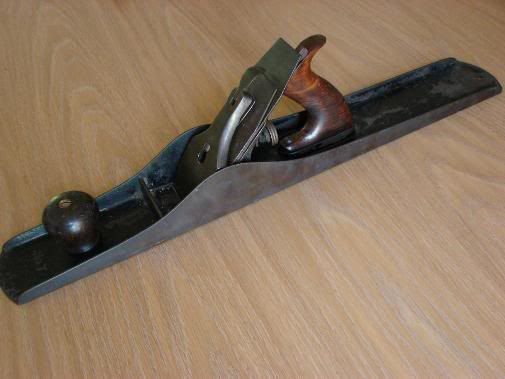 Stanley No. 7 seller alleges that this plane was produced between 1885 and 1888 and has a leveler that was only made for a short period of time. We will see. I don't collect planes, so I didn't buy this on to set on a shelf and look at. I'm going to sharpen it and put it to work.
Stanley No. 8 with a corrugated sole plate. Sorry for the funky crop. The photo was tilted so I rotated it.
I guess I will be at the sharpening station for a few days when the letter carrier shows up.
I have to edge joint 10 foot boards for glue up. Anybody jointed this long of boards and been successful doing this with one of these type of planes?
I guess I could get them close with the hand plane and do the router thing mentioned in the previous blog.
Then I plan on using these planes to joint the top of this big table. Should help me buff up. :-) Look out Arnold. "I'll be Bach!" No, that's back but you know how the Gov-na'ter talks?
-- The more skilled you are at something, the worse you are at it when someone is watching.
---