Day 4
Ok, I got all of the individual pieces machined and now I am doing some fitting to see where everything stands (no pun intended :) )…
Here I am assembling the outer frame of the upper door. In the drawing I posted in the last blog, you will notice I had intended to do double doors on each side. When I started sizing the individual members, it seemed to balance a bit better and give more space if I only did one door on each side instead of two.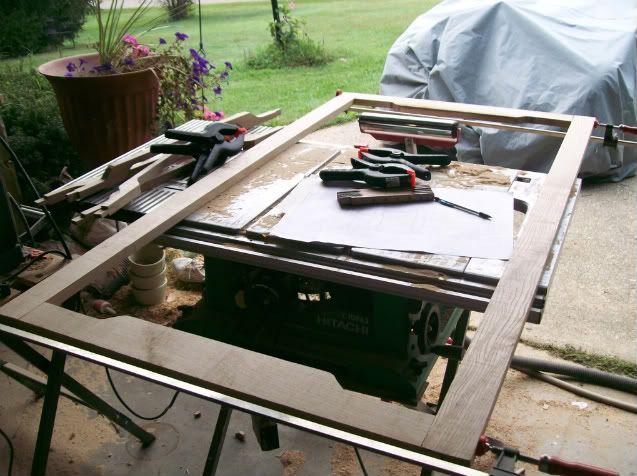 Still in the fitting stage with no gluing yet, I continued the rough fitting to see what needed to be done. I always find some outliers that need a bit of tweaking (I won't go into how often that happens…). If you are going to do a lot of mortise and tenon work, I strongly suggest considering getting a mortising machine. I got a Craftsman, and it suits my needs. Up until about a year ago, I did all of my M&T work by hand. I still do a lot, but when you have a lot of repetitive work it is a life-saver.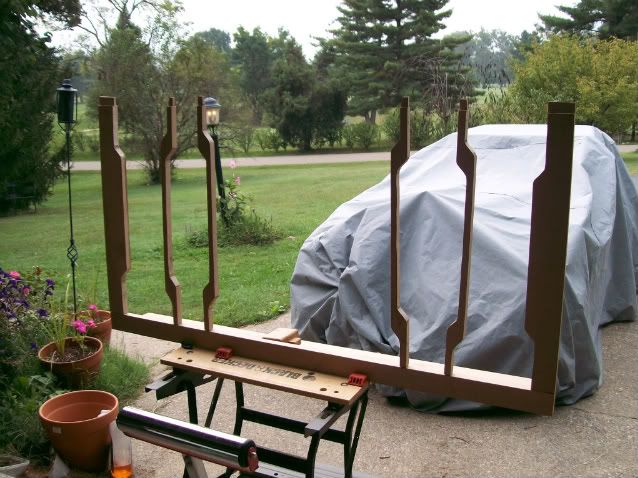 I laid out all of the mortises together to keep everything straight. I am a proponent of story poles and measuring without 'measuring'. For example, if I am doing trim work, I rarely will use a rule or tape measure. I prefer to 'measure' directly and transfer cutting measurements from the application directly to the piece that will be cut. Do a google on 'story poles' and you'll see what I'm talking about. I don't shun rules, etc., but I believe there are some jobs that are better served without them. It works for me but others may swear the opposite and that's ok – that's one of the things that make woodworking so interesting. Everyone has there own way of doing things.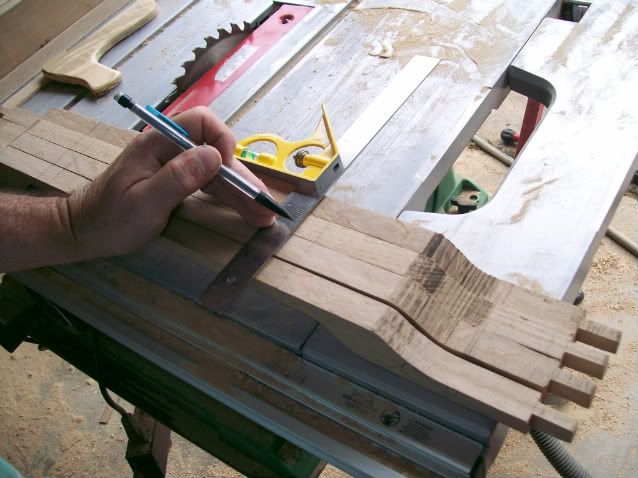 Here I am assembling the central mullions on the rails. I debated for a long time whether to shape these or leave them straight. I did a lot of research in some of the Greene & Greene books I've got and I've come to the conclusion that sometimes less is better. They didn't over-do the use of their design elements.
A bit of trivia for those who are interested: What two design elements that Greene & Greene used predominantly are never found together in the same piece?
Ok, back to the work….
I used masking tape to temporarily hold all the pieces together during the test fitting. Assembling pieces during rough test fitting reminds me of working on old plumbing… touch something here and ten feet away it falls apart and starts leaking… imagine if you had to worry about sap leaking every time you worked with wood….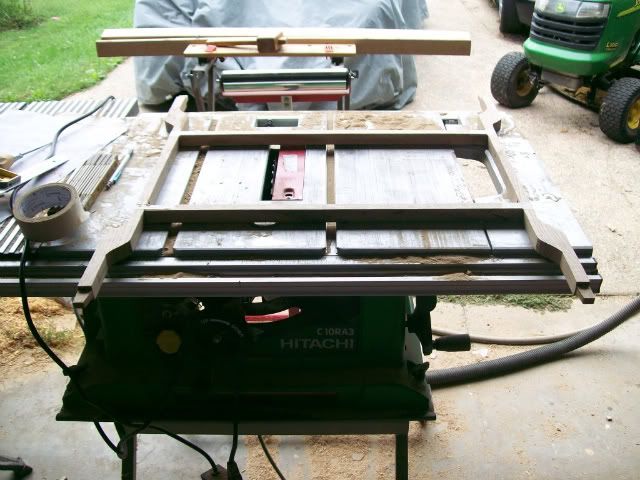 Here are some shaped members that I will apply to the bottom and top of the door units. They're really not 'cloud lifts' per se, just some shapes that I really like. I wanted to incorporate a sun theme into the door but I didn't. Again, less is more…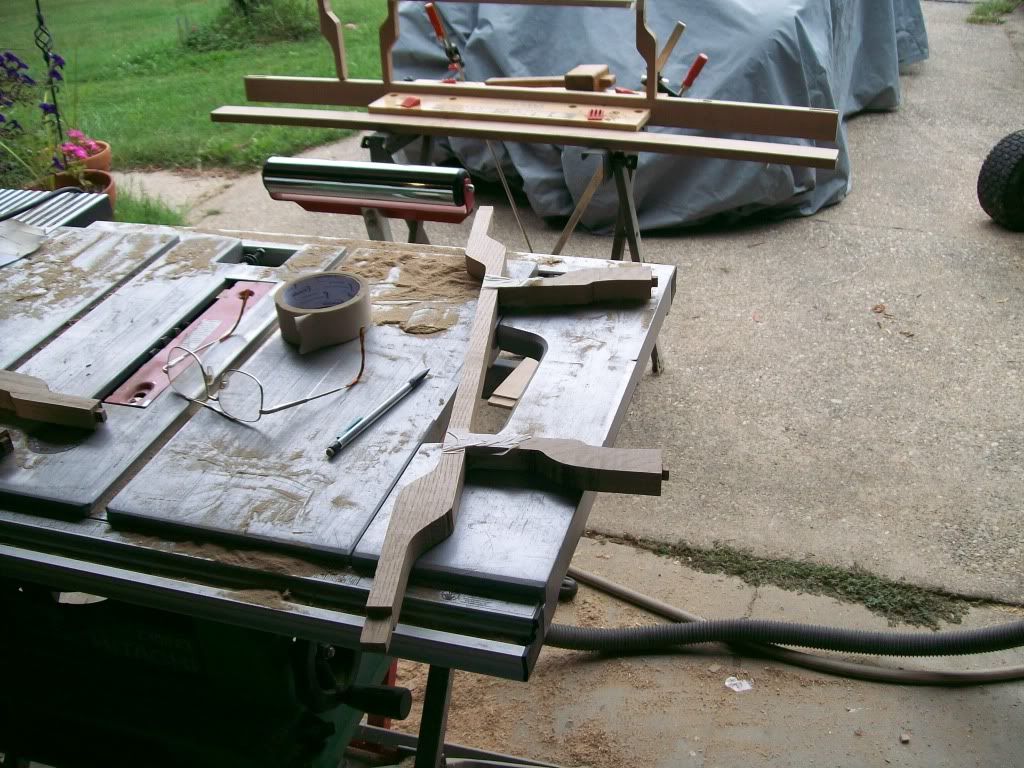 The end of a good day…
Day 5
Today I start on the bottom door units. The shaped elements in these pieces will tie into the shaped members in the doors above. For these, I like to use my imagination, but something that works with the upper members. I just started drawing on a board and found the shape I liked.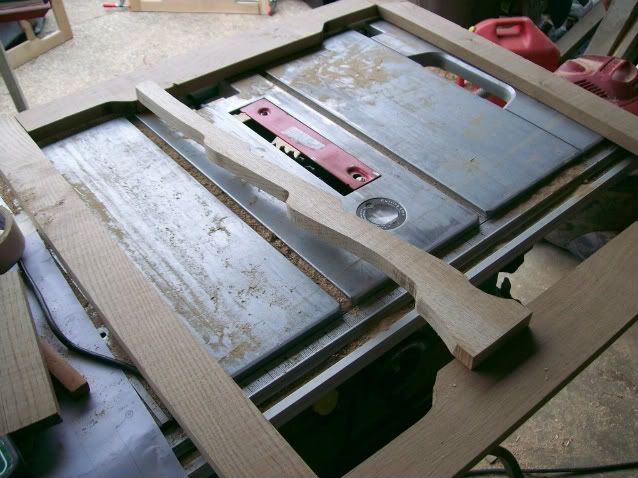 Here is a little tool I made several years ago courtesy of one of my wife's cutting knives. I took an old unused cutting knife and ground the blade down until I found the shape I liked, and then sharpened it. You can no longer carve a turkey with it, but It makes a great marking knife…
In the process of machining the pieces, there will always be pieces that need some fine tuning. Here you can see plenty of light along the edge of this board. I'll establish a straight line along one edge of the board with the straight edge and my turkey carver. I then darken the line with a pencil. This will help visually when I plane the board's edge.
I know, I know, it's an ancient plane, but it works and I love to use it. I have a jointer but after listening to my planer scream for about an hour (even with ear plugs) it is a joy to use an old plane and enjoy the peace and quiet. I go back and forth from plane to straight edge until I can no longer see light.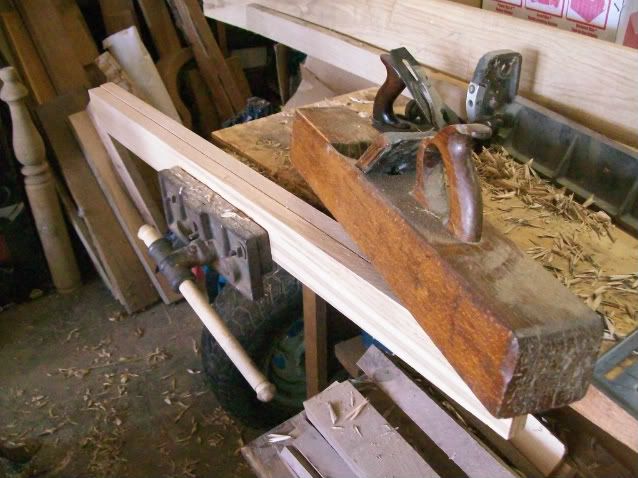 Here I am using a Stanley #4 to flatten a side of one of the boards. I love doing this… I have the plane set up to take a very thin cut, and alternate with crisscross swipes to bring the face down to flat.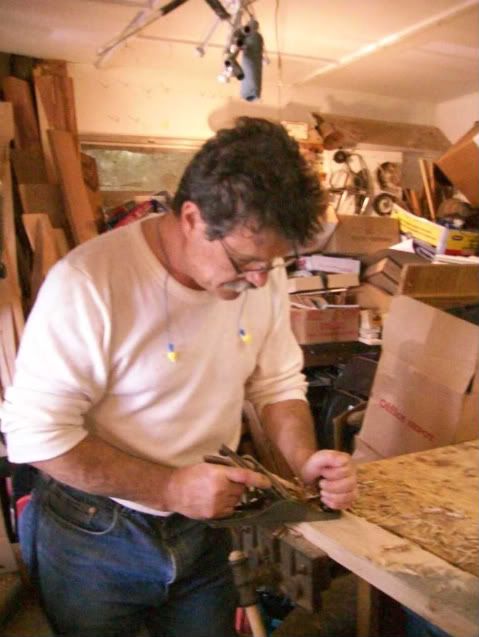 Now the board has a nice flat face and straight edge. Ten more to go….
Another wonderful tool to have is a marking gauge. This tool was used all the way back to ancient Egyptian times. Some texts and users will say to push it. Some say pull it. I find that there are different times when one work well but the other doesn't. It's probably me….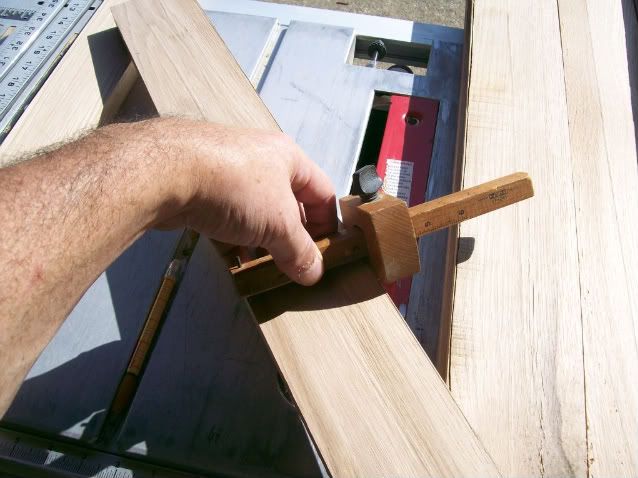 Cabinet #1 is set in place. Note that I don't have the internal back installed yet, nor is the door hung with hinges yet. If I had some regular lifting help, I would have built the entire cabinet in my shop and then transported it to the room. White oak tends to be very heavy… Since I typically work alone, I try to build pieces in a simple manner. The cherry mantle I made about 20 years ago will come out soon.
The second cabinet is in place, and the cherry mantle has been removed. Next, I will mount the doors on their respective hinges, install the internal backs, and install the glass. The fireplace is somewhat offset from the center. If you notice, there is a 4" gap on the right aside of the room. I'm still thinking about how I will deal with that….
Thanks for reading!
Stay tuned…
-- Sam
---