This is kind of random. I really want a small set of drawers on top of my bench for all the little stuff that accumulates. I want to make it attachable to the top and hang over the back by about a foot. This would allow me to remove it when needed and not take up too much space. Maybe it could attach using the dog holes, or maybe by some clamping fixture. Any ideas on this?
I had built my bench with Douglas Fir 4×4s from Home Depot. I kept the cutoffs and decided to use them for the carcass. I had also bought two 2 1/4" turning blanks (with Karson at the woodworking show) for making rolling pins. After completing one of the pins, I decided I did not really want to try that again, so I will use the other blank for the drawer fronts.
The DF was only about 50% usable (lots of knots). It also was much weaker than I anticipated. Several attempts at dovetailing the carcass just did not work out, so I went back to good old biscuits. I really do love the way that the DF looks when you get premium pieces of it, like on top of the box.
The turning blank was split into four drawer fronts, and this determined the whole size of the piece which is about 18"x10" and 12" deep. The fronts ended up a bit less than a half inch thick so I decided to build the drawers and just attach them. The drawers are out of poplar. I decided to cheat here and just miter the corners and they will be pinned with dowels or splines. The bottoms are 1/4" mdf. I plan to line them with soft drawer liner anyway. The lowest drawer will slide on the bottom, while the other three will have wooden rails screwed to the carcass.
Pictures are of:
1) The starting pile of DF and the maple blank
2) The drawer strategy with poplar sides
3) A mockup of what it will look like. Nothing is glued, sanded, or finished.
Steve
—————————————————————————————————————————————————

—————————————————————————————————————————————————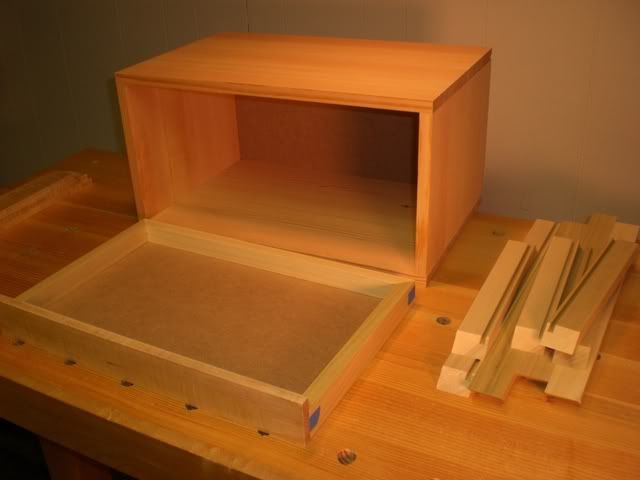 —————————————————————————————————————————————————

-- -- I'm no rocket surgeon
---