I wanted to enter a serving tray into the 2008 summer contest. I had always wanted to try a 'stained glass with wood' kind of technique and thought this would be a good place to try it. Being a Frank Lloyd Wright fan, I thought I would try a take off on one of his windows. But as luck would have it, the motor in my table saw decided to commit suicide. I spent hours taking the motor apart, cleaned the bearings and centrifugal starting switch, but it seems to keep frying starting capacitors. I guess the start winding must be partially fried, as it refuses to start, but instead just lurches and trips the breaker. The good news is after this (and summer vacation), I plan to get a new table saw. Yea! My old 1954 Craftsman has finally served it's time.
I still like the idea, and thought I would share what I did so far. To maybe be completed at a later date. First, here is a pic of the inspiration from FLW.
I sliced and sanded several species to a thickness to about an eighth of an inch. The gridwork is out of strips of walnut. Other woods are maple, Spanish cedar, purple heart, wenge, and cherry. The concept was to glue all the pieces to a sheet of Baltic birch and thickness sand it smooth. Then cut the female circles with a router into the glue-up and turn the male circle inlays on the lathe faceplate. Glue it again, surface sand again, and add the sides.

———————————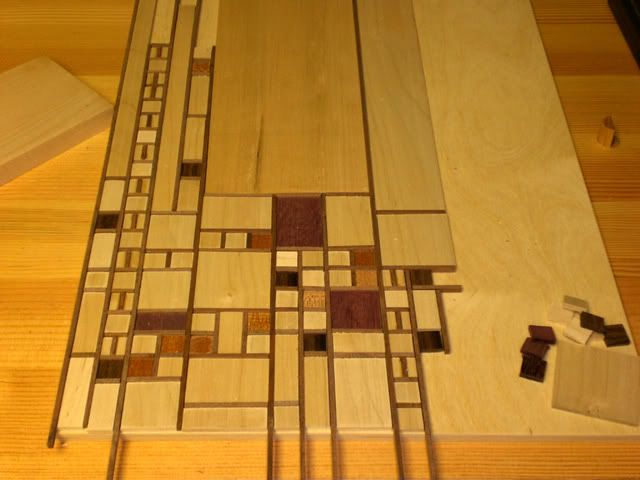 Oh well, things happen, and dreams get placed on hold. At least I finally get the excuse to get a new saw.
Good luck to all the other entries,
Steve
-- -- I'm no rocket surgeon
---