Ever have one of those days, where you take one step forward and two steps back? I finally get a day off from work and proceed to walk backwards.
I ordered some special foam tape from JoeWoodWorker that is intended to hold a vacuum. And since the shopping basket was already open, I threw in a bunch of brass hardware and tubing. Today I drilled a 2" long hole in the side of a HPDE plate and threaded it for a hose coupler. I then drilled a small hole on the top that intersected the long hole from the side. I put some of my new tape on top, and connected the vacuum pump. It worked pretty well, but leaked a little bit when trying to hold wood. So I put some sanding sealer on the blocks, let them dry, and I got much better results.
Here is the new vacuum clamp: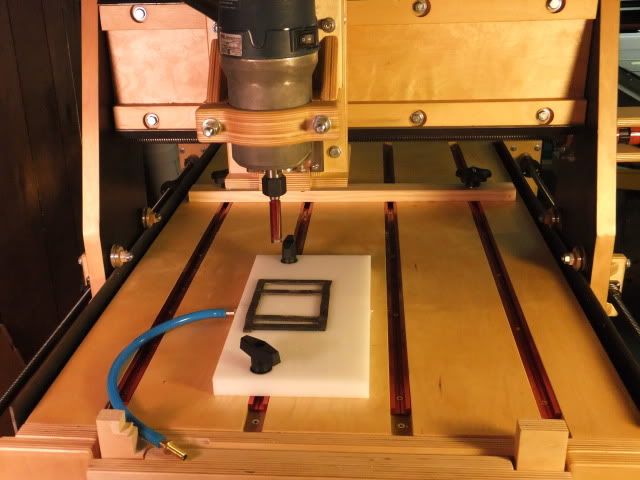 My first attempt at using it did not turn out so well. The foam held the bock down, but it was able to twist some. This really showed up in the routing. So I came up with a board that I could press up against the block. This helped keep the block from twisting quite a bit.
Here is a video about how things went bad. I sped up the video so it is only a minute long (you can only take so much of this). Watch the silver part of the router bit just under the collet and before the red bit. It seems to grow in length as the routing gets going. The bit slipped. So now I have a nice profile routed into one side of the HDPE, and two ruined cherry blocks.
Oh well,
Steve
-- -- I'm no rocket surgeon
---