Well I started on Gable box number 2. Actually it is really box number 4. The original box number 2 became seriously gouged when I tried to get clever on the routing table. Box 3 has curved gables rather than triangles. Things get a lot tougher doing that.
Box 1 was small and cubic, so now I tried larger and squattier. I also want to try out some interior trays. I suck at the artistic side of design, so I tried using the Golden Ratio of 1.6:1. I picked a larger box of 8 inches square. I wanted it shorter, so 8 / 1.6 = 5 inches tall. To get the side height, 5 / 1.6 = 3.125 inches. I drew this in Sketchup which told me that I needed an angle of 25 degrees for the gables.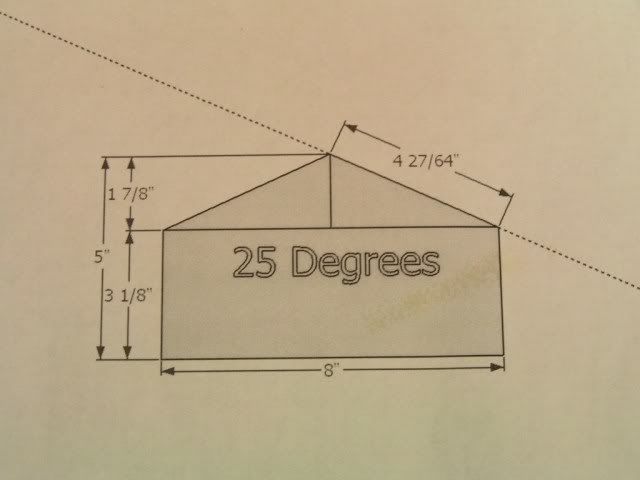 .
I then built my sled for cutting the triangles with a 25 degree pitch. This is used for glue up and for table saw work.


.
Box 1 was MDF, which caused problems with looks and hinge attachment. It also had QS cherry, which the Wife Unit really does not like. This time I am using solid cherry, with cherry plain sawn veneer for the outside wrap. The inside will not get veneered.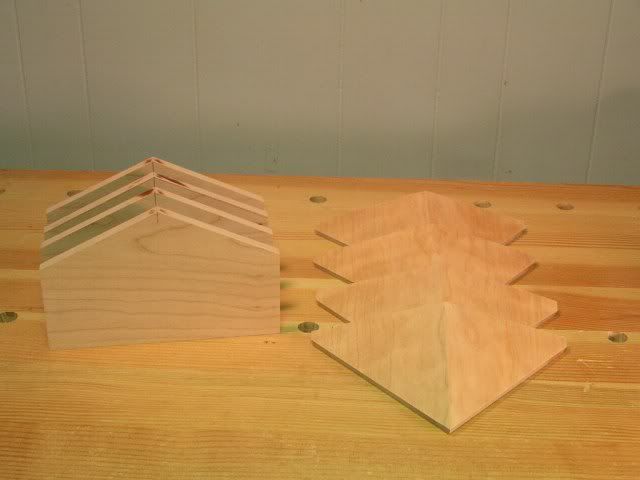 .
I cut the dado for the bottom before I realized that I did not allow for feet to be routed out of the sides. Arrgh, so I will have to attach some later. I also put on a coat of sealer to the inside before gluing up.


.
.
Then the glue up. I cut some notches to help with clamping.


.
Then trimmed the gables flush with the sides.


.
Sawed the box in two.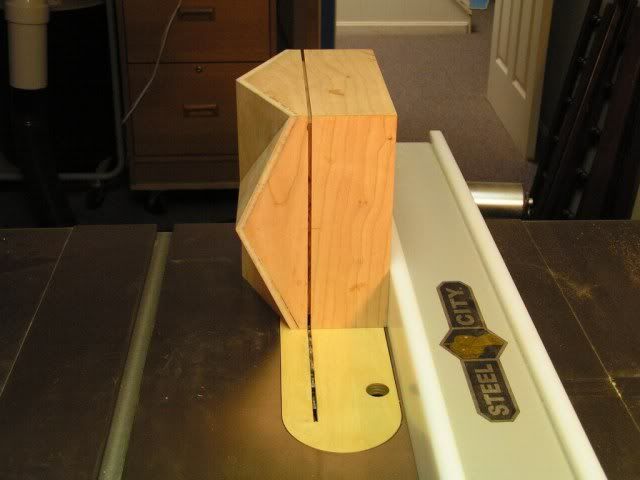 .
Then I wrapped the sides with cherry veneer and trimmed flush. There is no finish applied at this point so it looks a bit washed out.


.
I found that the plain sawn veneer is a lot less forgiving than the QS. It chips much easier and the joints are more visible. So I have at least one more of these boxes to build before I put this to rest. That is so I can try to figure out the contrasting edge stringing which should hide the joints and add a bit of ruggedness to the veneer edges.


.
Now I need to make the tray. Keeping with the triangle theme, the plan is to form a 2" tall grid work on the bottom using two thin strips in a big X to create four compartments and it will double as a resting stop for the tray. The tray will also have an X and its height will follow the profile of the inside of the top. That is it will angle to rise in the center. This point can also be used as the grip to remove it.
And then feet, and hinges, and finish. Much to do, so little time.
Comments and suggestions always welcome.
Thanks for looking,
Steve
-- -- I'm no rocket surgeon
---