Here goes my brain again, off on some tangent.
I have been thinking of building this box for a long time. I want to try to use veneer for some box building, but need some tricks to hide the veneered edge. So I chose a gable topped box with walnut corner treatment to hide the veneer. I am not sure if I like it, but it does have some potential. It was always prettier in my head. Maybe comments on the design might help. Or even the suggestion to start over or just bag it.
.
It started with a glue up of 1/4 inch MDF at 30 degrees. The veneer is quarter-sawn cherry.


.
I then cut these at 45 degrees making little triangles. I used another 30 degree temp glue up to make a sled holder.


.
I used the same sled holder rotated to cut the 90 degree cut offs.


.
The first gable glue up.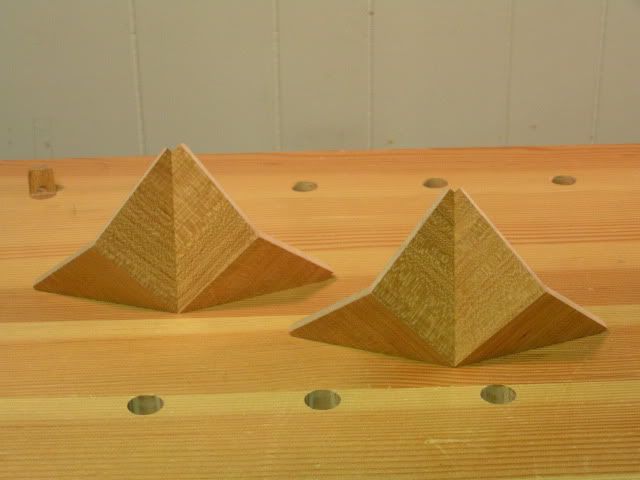 .
What the inside of the gables looks like. (I don't know what is with the yellow tint to this picture.)


.
I veneered one side of some 1/2 inch MDF (which will be the inside), cut 30 degree points at the top, mitered the corners, and cut a dado for the box bottom. (The plan was to cut arcs at the bottoms to form feet, but I forgot until too late.)


.
I then glued on the top, letting it overhang the box.


.
Then cut the top to the sides with a flush cut router bit.


.
I used a flush cut saw to finish the gable points.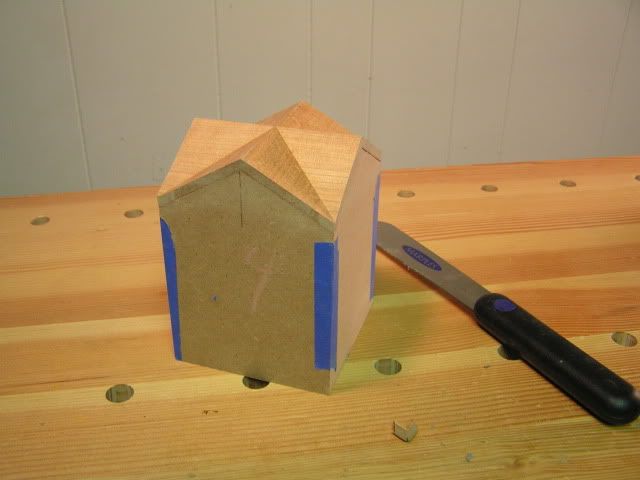 .
I cut the top off the box. I also veneered the top edges at this point, so when I veneered the outside it would cover the seam. (I cheated here and used one large sheet, instead of 4 mitered strips. Dumb move.)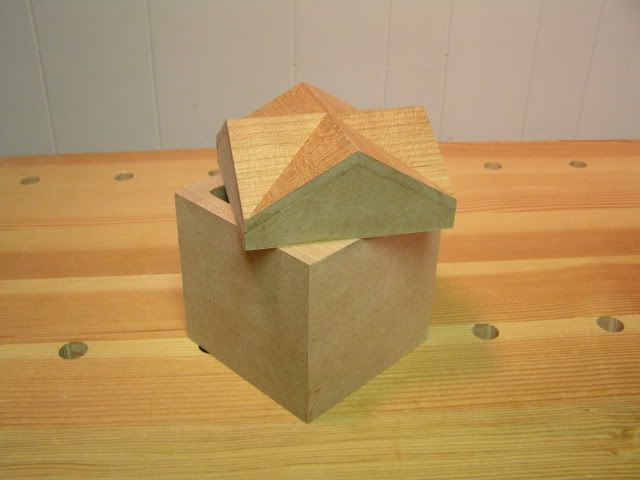 .
I then veneered the four sides while trying to match the grain.


.
So the box so far looks like this. It looks kind of bulky to me. 6.5 inches tall, by 4.5 inches square. The bottom is recessed by 1.5 inches, so I could reduce the height by cutting it down. Or cut an arc to 'lift it up' and form feet. I don't know. It has a coat of shellac on it.


.
Here is an inside view of the two pieces. (Again the weird yellow tint to the pics. ??) I guess it is calling out for hinges?


.
Now here is another dilemma. The plan was to add flush cut vertical walnut strips to the 4 corners. Also add the same type of strips to the outside edges of the gables (like the round piece, if it were a triangle instead). I don't know if I can do it. Or if I need to.


.
Any ideas? I could use some.
Steve
-- -- I'm no rocket surgeon
---