Funny how things happen. I was cruising Craig's List and spotted a guy selling a laboratory grade vacuum pump. I contacted him about it, and could it work for woodworking. He said no, but that he had some pumps that would work. I went over to his house which was only 4 miles away. He had four brand new pumps that he sold to me for $15 each. I found them on the web for $285 each. Woo Hoo. I sold two of them to guys at work, and kept two for myself.
So I had to do a crash course in vacuum pressing. These pumps have two main specs: 27 IN HG which is how much vacuum it can pull, and 3.15 CFM which is cubic feet per minute or how fast it can move air. It turns out that the 27 IN HG is a bit too strong, so I ordered some parts from JoeWoodWorker to add some regulation. I will blog about that when the parts arrive.
!
Then I ordered some veneer from eBay. It turns out that there are a few places that will sell it for between $.50 and $1.00 a square foot. Not bad. I am not really looking for exotics right now so I ordered some curly cherry, some African rosewood (not sure why), and some quarter sawn cherry. This is how they arrived. Each flitch of the QS cherry is 6 feet long, beautiful stuff.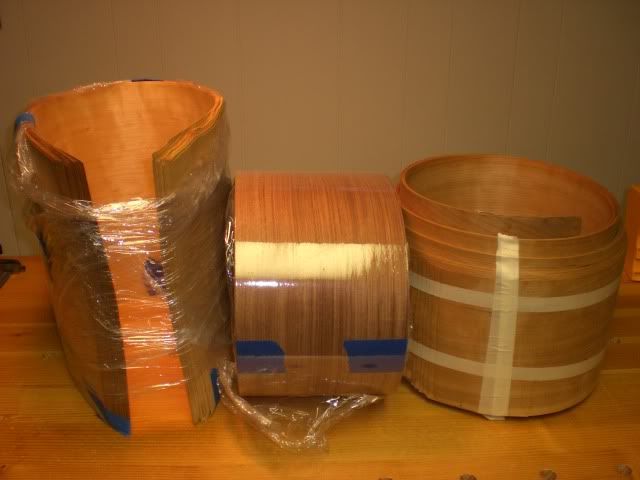 !
Lacking any idea of what I was doing, I bought a heavy duty shower curtain liner from Bed Bath and Beyond and fashioned a vacuum bag. (It is 8mil thick, actually really nice stuff). I fed a hose from the air compressor through some rubber grommets and threaded it into a block of scrap with grooves in the bottom to let the vacuum disperse. I used a piece of marble as a flat reference, made up a sandwich of cherry+1/2"MDF+cherry topped off with a piece of MDF wrapped in wax paper for a platen. Stuck it in the 'bag' and turned on the pump. It worked quite handsomely. I left the pump running for about an hour and then removed it.
!
Here is the result. Beautiful cherry and flat as can be.
!
I decided to play a bit more. I read that you do not have to use a top platen every time if you use some 'breather mesh' so I fashioned some out of a rain gutter cover. I made up a sandwich of rosewood and 1/4"MDF and let the bag do its thing.
!
But yikes! The pump was way too powerful and started pulling the glue right through the veneer.
!
I removed the sandwich, and wiped down the veneer with a wet cloth. What a mess, the veneer started to buckle really badly.
!
So I went back to the platen concept and just smushed it all back together inside the bag. After a while, I removed it and cleaned it up. Not bad.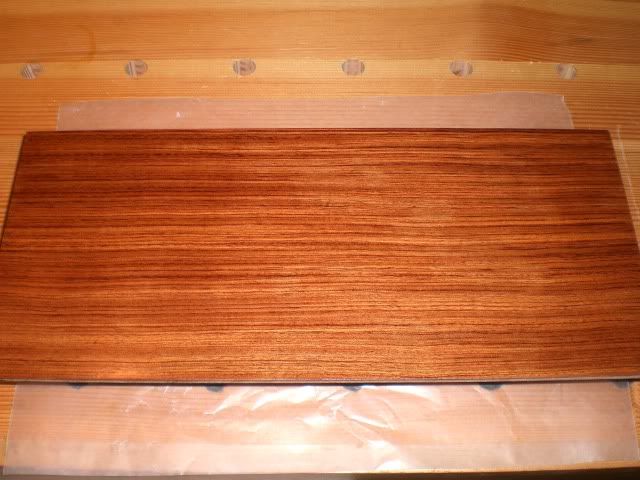 !
I have a lot to learn, but this is really cool.
Steve
-- -- I'm no rocket surgeon
---