My wife wanted a daybed that we could put in one of our spare bedrooms for when we have more than one couple stay the night. We searched high and low, but couldn't find anything that we liked. So, I downloaded Google SketchUp and started playing around.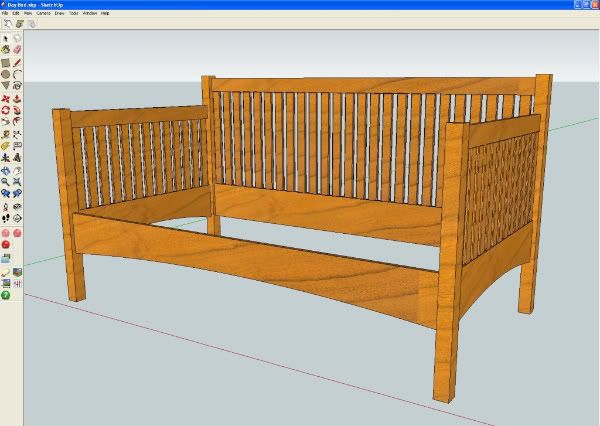 My wife and I both like the arts and crafts and shaker styles, so that's more or less what I based it on. It's not true to form, since I had a tight deadline on getting it done, so no mortise and tenon joints.
I found a good deal on some cherry lumber on Craigslist. The guy's story was that he wanted to get into wood working and bought a bunch of rough cut lumber, but didn't wind up having the time. He had it for several years before he decided to get rid of it.
A few passes through the jointer, and it broke… That's a story for another post. I wound up jointing all of the wood on my Bench Dog router table. It came with aluminum bars to put behind the outfeed side of the fence for using it as a jointer. It worked great considering what it was. I don't have a jig 8 ft long for the table saw so, I had to do what I had to do. I think I made out okay though…
All of the edges were also chamfored with a 45 degree bevel bit on my router table. I kind of wish I didn't do the edges of the front and back rails that sit up against the legs, but I suppose I could always trim that off. I'll just have make the mortises deeper for the knockdown hardware.
The arcs on the front were cut with a jigsaw, and then I shaved down to my line with a spokeshave. I just picked up a bandsaw – a little bit late, but I'll use it for the next big project… I'll even make templates out of MDF too.
The legs were attached to the sides using the Kreg pocket hole system. The plugs are cherry, but are much lighter than the lumber I used. I think that it adds a little bit of interest again all of the straight lines. The good folks at WoodCraft assured me that they would be strong enough. I probably overkilled it, but I'd rather it not fall apart with someone sleeping on it!
I cut the plugs flush with a flush cut blade on my Dremel Multi-Max. It is quickly becoming a favorite of mine and I find myself pulling it out for more and more projects.
There is no finish on the bed yet… I'm waiting for nicer weather outside so I can finish it with a natural color Danish oil.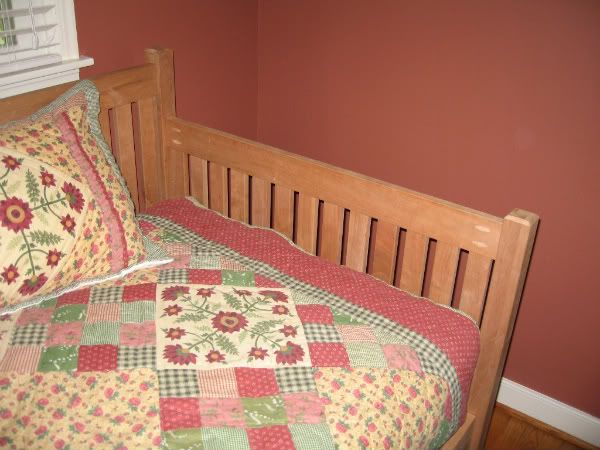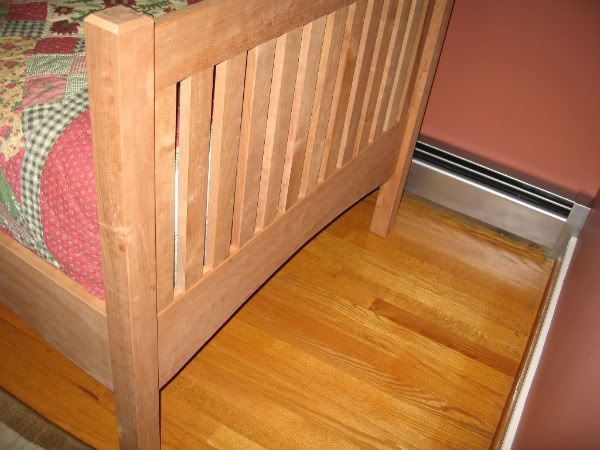 Here's a shot of the hardware that I used. Just simple knockdowns that I picked up at WoodCraft.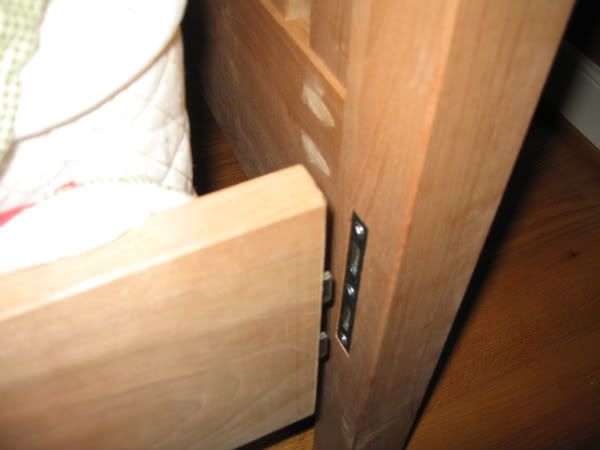 I used cheap 1×4 pine for the support slats. I screwed about 5 together at a time so that they are easily moved. Next time, I think I'll just staple two pieces of rope on either side. It will probably be faster, and you can grab it all in one piece.
I will try to remember to get put on some pictures of the "finished" product. Ha! get it? Finished with a finish?
-- If you can't fix it with a hammer, you have an electrical problem. Roanoke, VA
---