Okay, it's Day 7, the end of the first week of the 30 projects in 30 days challenge. As of today, I'm a bit ahead of schedule, but for a reason. My daughter and grand daughter will be flying in from Arizona on Friday for the first time in about 2 years. So, I'm expecting my shop time to be diminished a bit.
I've got 5 pens (actually 3 pens and 2 pencils) which are pretty straightforward and fortunately don't require a lot of shop time. Being a novice turner, my take on pens is to pretty much make them round and let the wood do the talking. No fancy designs here.
What I've got is a Longwood pen and pencil set and a Cigar pen and pencil set, both made with Ebony, and then a Longwood pen made with Tulip wood. The Mrs. really liks that one. (It looks like I'll need a new camera because I can't seem to get the quality pen pictures that many others seem to get)
Then I have a variation on the wheelbarrow; a flower cart. Definitely smaller than those I saw growing up, but perfect for a pot or two on the patio. Like it's companion, the wheelbarrow, it's made of pine and coated with shellac.
Next is the step stool. I've been planning on making one of these since my first grandchild and finally have gotten around to it (with 5 grandkids and counting). It's made of red oak and will do quite nicely when the tykes need to wash their hands and brush their teeth.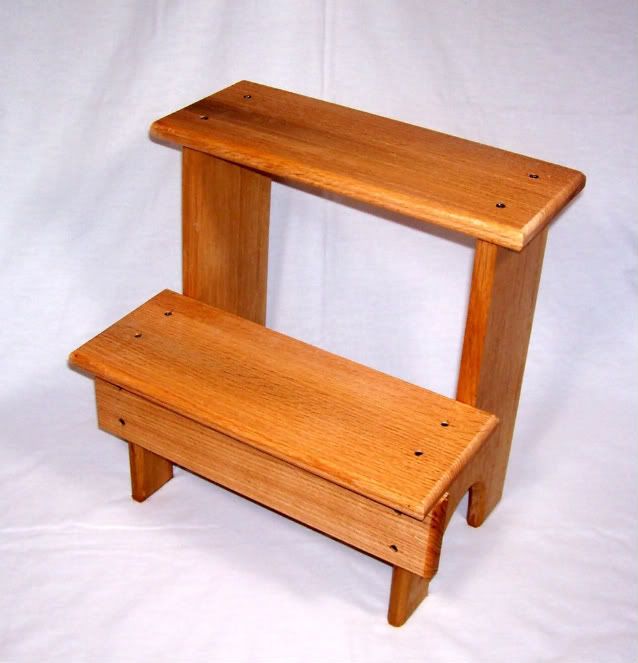 Then there is an attempt at a jewelry box with three drawers. Drawers are hard enough, but when they're small they can be a real bother. But, I like the combination of walnut and spalted maple.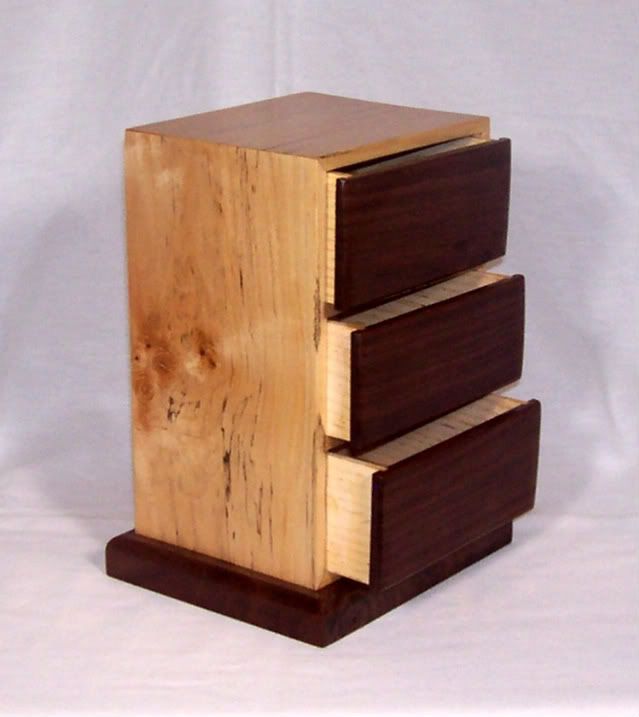 Then there's the sisters. They're not twins, but look similar and made from the same material; willow and leopard wood.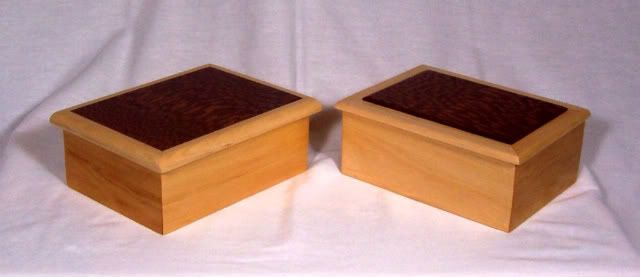 Once again I have to mention that the Mrs. has allowed me all the shop time I need to particpate in this challenge. I've spent most of my free time there working on things to make sure that I don't fall behind. Because this is a hobby, I tend to wander off and not finish thing in a timely manner. So far, this challenge has made me aware of time constraints and the need to work through issues with a project. It gives me a little insight into what shop time might be like for the pros who depend on their work.
One week down and 12 projects completed. The down time when my daughter comes should not put me too far behind. Still to come, the cherry sofa table and what the Mrs. calls a grandson clock in butternut.
-- Working at Woodworking http://www.VillageLaneFurniture.com
---