It has been said that it is a valuable exercise to blog a project from beginning to end. That seems reasonable to me, though I often forget to keep track of what I'm doing while I'm doing it so I don't get a lot of progress pictures. With the summer challenge, I am going to attempt to document what I'm doing as I'm doing it. I'm expecting there to be gaps in the timeline (just like the gaps in my memory), but I'll do my best to make them small.
There was a gate in our backyard that had seen better days.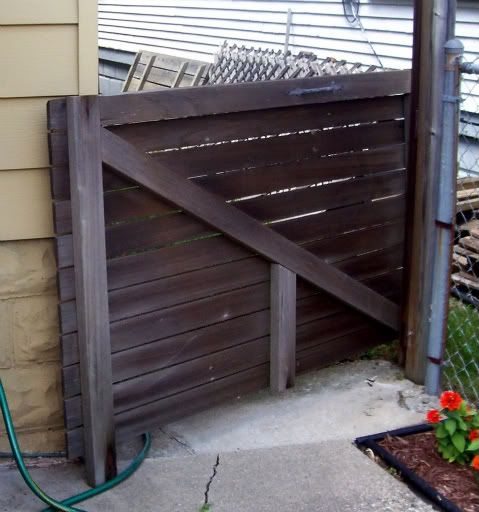 It was kinda standing when we bought the house, but has since gotten lazy. The Mrs. proclaimed, "It's ugly, can't you do something about it?" Eventually, I built the new gate you see below and the Mrs. was happy for a time (That's the way things work).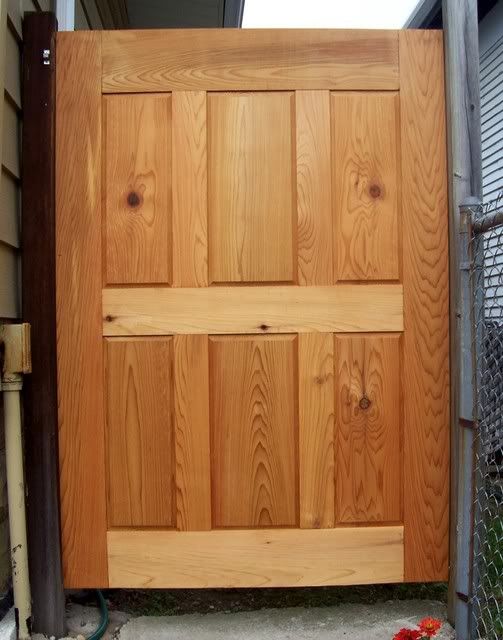 Well, the old gate sat hidden behind the new gate while I decided what to do with it. Then along came the LumberJocks Summer Challenge 2008 and there was hope. All I needed to do was come up with something to make. So, I carried the old gate into my shop and just looked at it for a while. (You can look too.)
Pretty ugly, right? So I tore it apart, which was a relatively new experience. It was nailed together and I had to find my hammer which I don't use a whole lot these days. Then I had to remove all the nails, ain't that fun! Of course, some nails had the head rusted off and they just weren't coming out. I'm not using that wood. But I got it torn apart and started cleaning it up and this is what I've got to work with.
The challenge is about repurposing junk, or something percieved as junk. I do believe this gate is not only percieved as junk, but truly is junk, so I figuring this will cover one side of the challenge. Now, I need to make some serving thing for outdoors to cover the other side of the challenge. That will be the trick since I'm an indoor kinda guy.
I'm now off to the races. Gotta clean that wood up a bit more and figure out what it's gonna be when I'm done. With any luck, it might just make it in time for the challenge.
-- Working at Woodworking http://www.VillageLaneFurniture.com
---